Venezuela to vote in historic poll on Chavez rule
(Agencies)
Updated: 2004-08-15 15:04
Venezuelans vote on Sunday in a historic referendum that will either remove left-winger Hugo Chavez from the presidency of the world's No. 5 oil exporter or keep him in office for two more years.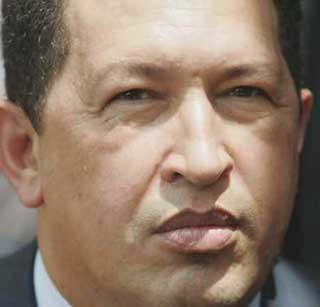 Venezuelan President Hugo Chavez pauses while talking to the press at the Miraflores Palace in Caracas, Venezuela, August 14, 2004. Venezuela, starkly divided by class and politics, was unified by anxiety on Saturday as opponents and supporters of leftist Chavez feared possible violence following Sunday's referendum on his rule. [Reuters]

Fears that a close or contested outcome, especially if Chavez loses, could trigger protests and violence persisted in the final hours before voting, which was due to start across the country at 6 a.m. (1000 GMT).

"We don't know what's going to happen ... we hope that nothing happens, but there are lots of rumors," said Rodolfo Escalona, a 36-year-old painter, as he stocked up on essential groceries in a Caracas market Saturday.

Both Chavez, a firebrand nationalist who has ruled since 1998, and his opponents have predicted they will win the referendum. The vote and its aftermath will be watched across the world because of Venezuela's importance as a major oil producer and leading energy supplier to the United States.

Venezuelan voters will be asked to answer "Yes" or "No" on touch-screen voting machines to the question whether the president should be recalled from office or continue his current term, which still has more than two years to run.

At stake in Sunday's vote is the survival of Chavez's self-styled revolution, a populist government that has spent millions of dollars of Venezuela's oil wealth on subsidized health, education and other social programs for the poor.

"I have a lot of faith in our victory, which is almost guaranteed," Chavez said on the eve of the vote.

For his opponents, the referendum is the last opportunity before December 2006 elections to vote out a leader they see as a bullying dictator squandering Venezuela's oil resources to promote a dangerous, self-serving revolutionary project.

The recall referendum, provided for in a new 1999 constitution promoted by Chavez himself, will be a first in Venezuela's political history.

To recall Chavez, the opposition must equal or beat the 3.76 million votes he received when he was re-elected in 2000. But if the "No" vote is bigger, he stays in office.

If Chavez loses, a presidential election will be held within 30 days. The Supreme Court must rule on whether he could stand in that poll.

BACKLASH FEARS

Chavez has said he will accept whatever result is announced by electoral authorities.

But the former paratrooper, who led a failed coup six years before winning 1998 elections, has fanned fears of a violent backlash if he loses by saying his supporters in the military and the oil industry will not accept a government formed by his enemies.

Radical pro-Chavez groups say they are ready to defend his "revolution" with arms if necessary. Opposition leaders have accused senior electoral officials of being biased in favor of the president and say they will be alert for fraud.

Combined with events in Iraq, worries about the Venezuelan referendum triggering violence and possibly disrupting the country's oil supplies helped world oil prices to reach record highs above $46 a barrel Friday.

Electoral officials and international observers appealed for calm.

"I have full confidence that the referendum will be honest, fair and transparent," Jimmy Carter, former U.S. president and 2002 Nobel Peace Prize winner, said Saturday.

Carter and outgoing Organization of American States Secretary General Cesar Gaviria are leading a team of international observers to the Venezuelan referendum.




Today's Top News
Top World News

China wins 4 golds at Athens Olympics




Growing energy demand nagging nation




Japan ministers pay homage at shrine, again




Typhoon Rananim kills 115 in Zhejiang




Central bank enhances monetary policy




Athens to inspire Beijing games