Hurricane kills at least 15 in Florida
(Agencies)
Updated: 2004-08-15 08:47
Rescuers rummaged through a chaotic landscape of pulverized homes and twisted metal Saturday, racing to tally Hurricane Charley's "significant loss of life" and help thousands left homeless by its vicious winds and rain. At least 15 people were confirmed dead.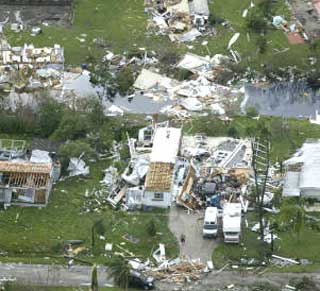 Homes flattened by Hurricane Charley are seen in Port Charlotte, Florida, August 14, 2004. [Reuters]

As a weakened Charley churned into the Carolinas and was downgraded to a tropical storm, newly sunny skies revealed its destruction in Florida, where emergency officials pronounced it the worst to wallop the state since Hurricane Andrew tore through in 1992. Twenty-six deaths were directly linked to Andrew, which caused $19.9 billion in damage.

"Our worst fears have come true," said Gov. Jeb Bush, who surveyed the devastation by helicopter. The Category 4 storm was expected to cost Florida "at least several billion dollars," said Loretta Worters, spokeswoman for the Insurance Information Institute.

Ten deaths had been confirmed in Charlotte County, said Wayne Sallade, the county's director of emergency management, but no exact death toll was available. "It's Andrew all over again," Sallade said.

"We believe there's significant loss of life, he said, adding later: "I would hope that it would be limited to dozens, if that."

He said "thousands upon thousands of people" lost their homes. Hundreds were unaccounted for in the county, which includes Punta Gorda and Port Charlotte, the apparent hardest-hit areas. Extensive damage was also reported on exclusive Captiva Island, a narrow strip of sand west of Fort Myers.

Thirty-one mobile-home parks in Charlotte County sustained major damage, some with more than 1,000 units, said Bob Carpenter, a sheriff's spokesman. He said teams were sent to each park to search for bodies and survivors, but "we just couldn't get the vehicles in - there is so much debris."

Several medical centers were badly damaged, forcing hospital officials to evacuate patients to other facilities.

"Where do we go now? What do we do?" said 69-year-old Barbara Seaman, standing by the shell of a demolished building in Punta Gorda's Windmill Village Trailer Park.

The storm and its 145-mph winds knocked out power to some 2 million homes and businesses as it crossed from the southwest coast at Punta Gorda to the Atlantic at Daytona Beach. Some 1.3 million remained without power Saturday afternoon, emergency officials said, and downed lines slowed some rescuers.

Three cities in southwest Florida - Arcadia, Port Charlotte and Punta Gorda - were without running water, state environmental officials said.

President Bush, the governor's brother, declared Florida a federal disaster area. The president planned a visit Sunday to survey damage, and Democratic presidential candidate John Kerry, in a statement, offered "heartfelt sympathies."

The hurricane rapidly gained strength in the Gulf of Mexico after crossing Cuba and swinging around the Florida Keys as a more moderate Category 2 storm Friday morning. An estimated 1.4 million people evacuated in anticipation.

When it hit, the storm upended trucks, twisted traffic lights and lifted entire houses atop neighbors' homes. Entire trailer parks were torn to splinters, and dazed residents wandered around neighborhoods, gathering miscellaneous belongings. At the Port Charlotte airport, small planes were stacked and snapped apart like toys cast off by an angry child.

"I've been through typhoons in Guam, and I've never seen anything like this," said Charles Charwat, an 84-year-old retiree in Ormond Beach, on Florida's east coast.

There were five confirmed storm-related deaths elsewhere in the state.

Mike McHargue, director of investigations for the Florida Department of Law Enforcement, said two people died in Polk County, and the others were in DeSoto, Lee and Sarasota counties. He said downed power lines and debris made the work of searching for bodies "tedious and dangerous."

Deputies were standing guard over some bodies because they were in areas not immediately accessible by ambulances. Earlier, Charley killed four people in Cuba and one in Jamaica.

As recovery efforts began, Florida officials warned against price gouging and said violators would face heavy fines.

The state's emergency response team was deploying more than 1.8 million gallons of bottled water and 2.9 million pounds of ice to damaged areas.

Deputy State Health Officer Bonnie Sorensen said three medical disaster teams, with 35 to 50 health care workers, were in place and another five would arrive to help those in need.

Hundreds of miles north, Charley's course took it across open ocean, missing the westward curving shore of Georgia. It made its second landfall on South Carolina's Grand Strand resort region, which was nearly empty after a mandatory evacuation of some of the area's 180,000 tourists and residents.

National Guard troops were on duty Saturday in North Carolina, where a mandatory evacuation order was in effect for vulnerable coastal areas hit less than two weeks ago by Hurricane Alex.

In Virginia, Gov. Mark R. Warner declared a state of emergency. Charley-related weather was forecast as far north as Massachusetts, the New York metropolitan area and swaths of northern Pennsylvania. All of New Jersey was under a flood watch Saturday afternoon.

The American Red Cross set up more than 250 disaster relief shelters in Florida and 40 shelters in the Carolinas. Staffers and volunteers were providing dry clothing, meals, first aid and counseling.

In Orlando, central Florida's major theme parks reopened Saturday. At Walt Disney World, the Magic Kingdom, Epcot and Disney-MGM Studios opened, but staff shortages kept Animal Kingdom closed. Fifty inspectors at Universal Studios Orlando checked all the rides and ruled them safe.

As people unbattened their hatches and emerged into the sunlight, the stories of nature's fury flowed.

In hard-hit Hardee County southeast of Tampa, Albert Whiteras, 56, said he had no idea the storm was coming until his daughter saw on the television news that it had changed direction.

"When you look at trees snapping in half in your backyard - Oh, my Lord, it was the most frightening thing I've ever seen in my life," he said. "I've been through these before. I know what they can do, but I didn't think it would do it."

Dan Strong, 51, picked through broken furniture, a tipped-over stove and soaking wet sofas as he surveyed damage at his mobile-home park in Punta Gorda.

"What I really need is a big broom," Strong said.

Three hospitals in the county sustained significant damage, Sallade said. Officials at Charlotte Regional Medical Center in Punta Gorda said they were evacuating all patients Saturday.

"This place just isn't safe," said Peggy Greene, chief nursing officer. She said windows were blown out, part of the roof was blown off, and there was no power or phone service.

Among those seeking treatment was Marty Rietveld, showered with broken glass when the sliding glass door at his home was smashed by a neighbor's roof that blew off. Rietveld broke his leg, and his future son-in-law suffered a punctured leg artery.

"We are moving," said Rietveld's daughter, Stephanie Rioux. "We are going out of state."




Today's Top News
Top World News

China wins 4 golds at Athens Olympics




Growing energy demand nagging nation




Typhoon Rananim kills 115 in Zhejiang




Central bank enhances monetary policy




Regulation of land use shows progress




Athens to inspire Beijing games