China's Du Li wins first Athens Olympic Gold
(Xinhua)
Updated: 2004-08-14 16:26
Chinese Du Li won the women's 10m air rifle gold medal with a score of 502 points at the Olympic Games in Athens on Saturday.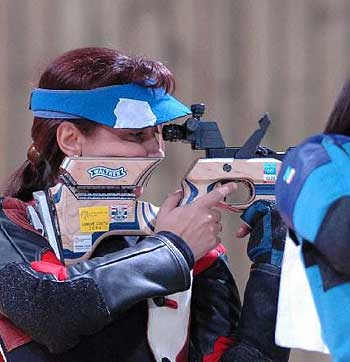 China's Du Li takes aim during the women's 10m air rifle competition in Athens, August 14, 2004. [newsphoto]


The 22-year-old outscored a host of elite markswomen, including compatriot Zhao Yinghui, world number one Lioubov Galkina of Russia and world and European champion Katerina Kurkova of the Czech Republic, winning with an Olympic record score of 502.0 points.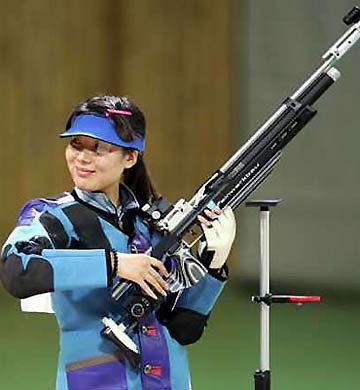 China's Li Du smiles after winning the women's 10-meter air rifle finals of the Athens 2004 Olympic Games Aug. 14, 2004. Li Du won the first gold medal of the games. [Reuters]


Du, who is competing in her first Olympics, entered the 10-shot final with 398 points on joint second places along with Zhao and Kurkova. She was edged into fifth place after opening the final with a 9.4.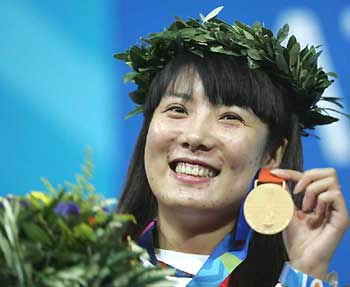 Du Li is all smiles as she holds up the gold medal. [Xinhua]


The girl then maintained her composure and rejoined the title race with a 10.6 and 10.8. But she didn't overtake all-time leader Galkina until the last shot, firing a 10.6 against the Russian's 9.7.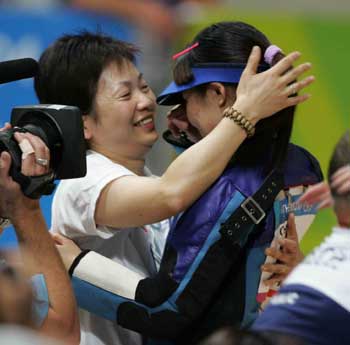 Du Li wipes her eyes as she is congratulated by her coach after she won the women's 10m air rifle gold medal with 502 points. [newsphoto]


Galkina, who led by a full point into the final with 399 points, had to settle for the silver with a total of 501.5 points.

Kurkova claimed the bronze medal with 501.1 points.
Zhao, a title favorite before the Games, only finished a disappointing fourth on 500.8 points.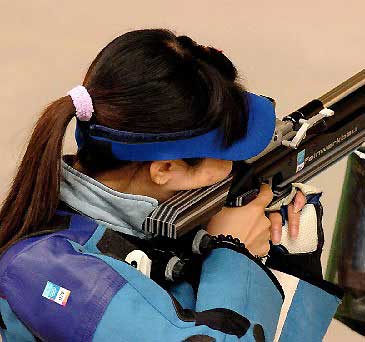 Du Li

Results of women's 10m air rifle finals
Following are the final results of the women's 10m air rifle, the first gold medal at the Athens Olympic Games, on Saturday:

1. Du Li, China, 502.0 points
2. Lioubov Galkina, Russia, 501.5
3. Katerina Kurkova, Czech Republic, 501.1
4. Zhao Yinghui, China, 500.8
5. Tatiana Goldobina, Russia, 499.5
6. Sonja Pfeilschifter, Germany, 498.7
7. Laurence Brize, France, 497.9
8. Suma Shirur, India, 497.2
Factbox: Olympic first gold winner Du Li
DOB: May 3, 1982
Birthplace: Shandong Province, East China
Height: 170cm
Weight: 55kg
Coach: Wang Yuefang
Career: 2002 world champion, 2003 World Cup winner and word record holder
Today's Top News
Top Sports News

Wang Yifu wins 2nd gold for China at Athens Olympics




Typhoon Rananim kills 115 in Zhejiang




Sharp profit rise expected for central SOEs




Regulation of land use shows progress




China prepares for French culture year




Athens to inspire Beijing games