Palestinian gunman kills settler in W.Bank, is shot
(Agencies)
Updated: 2004-08-13 21:32
A Palestinian gunman killed a Jewish settler in an ambush outside a settlement in the West Bank on Friday before being shot and killed by security guards from the enclave, Israeli officials said.
Responsibility for the attack was claimed by an armed group in Palestinian President Yasser Arafat's Fatah movement that also carried out a bombing at an Israeli army checkpoint outside Jerusalem that caused both Palestinian and Israeli casualties.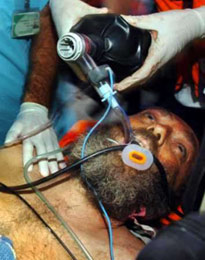 An Israeli settler who was shot by Palestinian gunman receives medical assistance in a Jerusalem hospital, August 13, 2004. The settler died of wounds suffered in a Palestinian militant ambush in the West Bank on Friday. [Reuters]

An army spokeswoman said the gunman sneaked into an area close to the rear gate of the settlement of Itamar and fired on a car driven by a settler patrolling the perimeter fence.

"The assailant, armed with an AK-47 (assault rifle) shot the Israeli civilian, took the civilian's own assault rifle out of the car and tried to run away," the spokeswoman said.

"Other security guards nearby rushed immediately to the scene and shot the assailant dead."

Violence in an almost four-year-old Palestinian revolt in territories Israel took in a 1967 war has churned on even as Israeli Prime Minister Ariel Sharon pursues a plan to pull out of Gaza while holding onto major settlements in the West Bank.

The al-Aqsa Martyrs Brigades, in a phone call to Reuters in Nablus, said it carried out the attack and described it as revenge for relentless Israeli army raids into the city in which many of its cell commanders have been killed recently.

A Brigades spokesman said the gunman was Youssef Ahmed Hassan Hanani, 25, from Beit Furik village east of Nablus. He said a second gunman escaped the area unhurt.

HARDLINE SETTLEMENT OVERLOOKS MILITANT BASTION

Nablus has been the largest West Bank base of Fatah and Islamist militancy throughout the revolt and has been subject to many Israeli incursions, arrest sweeps and blockades.

Itamar is an enclave of ultra-nationalist Jews on a hill overlooking Nablus and has been attacked by militants before.

Israeli police said on Friday they had arrested a third Palestinian over a botched bombing at an army roadblock on Jerusalem's fringes in which two Palestinians were killed and 19 people wounded including six Israeli policemen.

Two other suspects were picked up earlier.

The al-Aqsa Brigades said their target had been Israeli security forces and apologized for the Palestinian casualties.

Also on Friday, Israeli tanks and troops thrust into a district of Gaza City next to a Jewish settlement and wounded four Palestinians in exchanges of fire, witnesses said.

Violence has surged in Gaza since Sharon unveiled his "Disengagement Plan" entailing a pullout of 8,000 settlers from among 1.3 million Palestinians in the teeming coastal strip.

Aides to Sharon said he was furious at remarks by his deputy on Thursday that Israel would eventually have to dismantle many settlements in the West Bank rather than just four tiny ones out of 120 as now envisaged.

They said Vice Premier Ehud Olmert's comments that Israel would have to quit much more of the West Bank to avoid ruling a large Palestinian population and preserve its status as a democratic Jewish state did not represent Sharon's views.

One aide said "disengagement" remained "the only plan on the table and we are not talking about anything beyond that."

Palestinians fear Sharon's plan to consolidate Israel's grip over large West Bank enclaves where most of the 240,000 settlers live will deny them land needed for a viable state.




Today's Top News
Top World News

115 die in wake of Typhoon Rananim




Sharp profit rise expected for central SOEs




Regulation of land use shows progress




Olympic Games starts in Athens




China prepares for French culture year




Athens to inspire Beijing games