Iraq's Sadr said wounded in US Najaf bombing
(Agencies)
Updated: 2004-08-13 13:34
Iraqi cleric Moqtada al-Sadr was wounded in U.S. bombardment of the holy city of Najaf on Friday, but his injuries were not life threatening, spokesmen for the leader of the country's Shi'ite uprising said.
"Sayyed Moqtada was wounded in American bombing. He suffered three injuries to his body," Ahmad al-Shinabi told Reuters.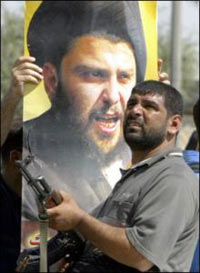 An armed militiaman stands next to a portrait of radical Iraqi Shiite Muslim cleric Moqtada Sadr who has been wounded in three places according to his spokesman, although his condition was unknown. [AFP]

Another spokesman told CNN that Sadr had wounds to his arm and chest and was being treated at the sacred Imam Ali Mosque, where many of his Mehdi militia have taken refuge. His wounds were not life-threatening, that spokesman said.

There was no independent confirmation.

Spokesmen quoted Sadr as telling his followers after he was wounded: "Act wisely, don't surrender to emotions."

But the news could trigger an eruption of violence from Iraq's majority Shi'ite community, where there is growing anger at the U.S. offensive near the country's holiest Shi'ite sites even from those who scorn Sadr's radical views.

Interim Prime Minister Iyad Allawi on Thursday urged the militia to surrender and leave the mosque. He is walking a tightrope in attempting to crush a rebellion that threatens to undermine his seven-week-old government.

U.S. marines backed by aircraft and tanks captured the city center in a massive attack against the Mehdi Army on Thursday. They also stormed Sadr's home, only to find it empty.

They blocked off entry to the Imam Ali Mosque -- from where Mehdi fighters have launched attacks during a nine-day rebellion that has killed hundreds -- but kept out of the sacred shrine.

The major assault on Najaf on Thursday, capping an uprising that has killed hundreds more in six other cities in southern and central Iraq, drove world oil prices to record highs.

Crude oil futures in New York peaked at $45.75 a barrel on Thursday, the highest price in 21 years of trade on the New York Mercantile Exchange. The Mehdi militia has warned the offensive could trigger more attacks on Iraq's oil infrastructure.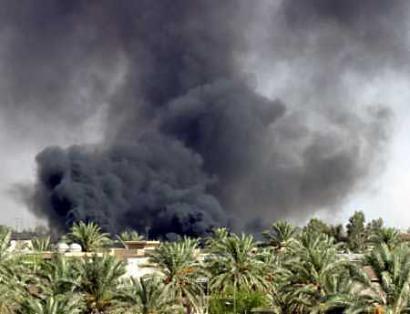 Smoke rises over the Iraqi city of Najaf August 12, 2004 during an assault by U.S. led forces. U.S. Marines backed by tanks and aircraft seized the heart of the holy Iraqi city of Najaf in a major assault on Shi'ite rebels, but they kept out of a site sacred to millions of Shi'ites around the world. [Reuters]


Sadr's spokesmen have said he is leading the defense, either from the shrine or an adjoining ancient cemetery dotted with crypts and mausoleums.

The reports of Sadr's wounding came just hours before Friday Muslim prayers in Iraq, often a venue for Iraqis to vent their fury at the presence of 140,000 American troops in the country and their U.S.-appointed leader Allawi.

The U.S. offensive has already sparked protests in several cities.

Wary of igniting more anger, the U.S. military has said the attacks would exclude the Imam Ali Mosque. Government officials have said only Iraqi forces would disarm militia inside.

The Mehdi Army has vowed no surrender, and Sadr has urged his militia to keep fighting even if he is killed.

Analysts have warned of a backlash even if the Imam Ali Mosque is undamaged and the militia beaten in Najaf. They said resentment could pose long-term consequences for Allawi.

Despite threats from the militia, Iraq reopened its main southern oil export pipeline after a sabotage attack on Monday.

Some 2,000 U.S. servicemen and 1,800 Iraqi security men are deployed around Najaf, a city of 600,000 about 100 miles south of Baghdad.

The latest fighting has shattered a two-month truce between U.S. forces and their most vocal critic in Iraq.

U.S. forces say they have killed 360 Sadr loyalists so far in Najaf. Sadr's spokesmen say far fewer have died in what is the second rebellion by the militia in four months.

In the southeastern city of Kut, at least 72 people were killed in U.S. air raids and fighting between Iraqi police and the Mehdi Army on Thursday, the Health Ministry said.




Today's Top News
Top World News

Typhoon kills 63, injures 1,800 in Zhejiang




Experts: Consumer prices reach peak




Quake cracks reservoirs, 50,000 in danger




N.J. governor resigns, admits gay affair




Chlorine leakage injures 70 in Jiangsu




Int'l patent fair opens with eye on technology