Hurricane Charley menaces Cuba, Floridians flee
(Agencies)
Updated: 2004-08-13 10:47
Hurricane Charley brought heavy rain to Cuba on Thursday and more than half a million Americans on Florida's coast were told to evacuate beachfront homes, trailer parks and islands lying in the storm's path.
Charley's winds rose to 105 mph as it passed the Isle of Youth, south of the Cuban mainland, heading toward the Havana area and the fragile Florida Keys island chain beyond.
Weather forecasters said it could strengthen to become a "major" hurricane, with devastating power, overnight.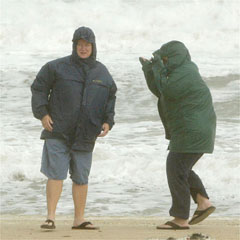 The wind from Tropical Storm Bonnie generates waves on the beach at St. George Island, Fla. [AP]

In western Florida's heavily populated St. Petersburg-Tampa region, more than 600,000 people were told to leave seaside communities, mobile homes and low-lying areas in advance of Charley's arrival on Friday, the Florida emergency management office said.

Charley had "the potential to be the one we've all been warning about," Florida Gov. Jeb Bush told reporters in the state capital, Tallahassee. "If people are told to evacuate they should take it seriously," he said.

The governor, brother of US President Bush, said 2 million people could be affected as Charley pounds the tourist resort island of Key West and then curves into Florida's west coast.

Cuban authorities also evacuated thousands of people.

"The news is not good. ... By the looks of it we will have to face a category three hurricane," Cuban weather forecaster Jose Rubiera said in a television broadcast, referring to the five-category Saffir-Simpson scale used to rate hurricanes.

A category three storm, with winds between 111-130 mph, can blow down large trees, destroy mobile homes and flood low-lying coastlines up to 8 miles inland.

Tropical Storm Bonnie, meanwhile, faded back into a depression as it moved through the Florida Panhandle toward Georgia, threatening floods in an area already soaked by rains, which is likely to get more of a bashing from Charley.

Charley was expected to hit Cuba full force on Thursday night, bearing a 10-14 foot storm surge, and to pass near Havana and its two million people around midnight. Heavy rain fell on Havana's deserted streets by early evening.

Key West, 90 miles north of Cuba, could see hurricane conditions by morning, the U.S. National Hurricane Center said.

EVACUATIONS IN TEN COUNTIES

Ten counties on Florida's Gulf coast, from just north of Tampa to Key West, ordered evacuations.

Traffic was extremely heavy on bridges across Tampa Bay and highways heading toward central Florida. Residents who did not plan to leave stocked up on plywood, food and water.

The hurricane center said Charley could send a 10-13 foot tidal surge onto the west Florida coast, including Tampa Bay where flooding could cause considerable property damage.

At MacDill Air Force Base, which sits on a low-lying peninsula in Tampa Bay, 1,500 nonessential military personnel and dependents were ordered out. Fifteen aerial tankers and transport planes were flown to safety at a base in Kansas.

In the Florida Keys, tourists and residents living in mobile homes were evacuated from the lower half of the 100-mile-long chain of islands off the state's southern tip. Shelters were opened.

Key West was nearly deserted. Shopkeepers boarded up windows and spray-painted messages on the boards. "We ain't never scared," said one.

"At this point, if you're staying here you need to hunker down and take care of your family," said Key West Police Chief Bill Fortune.

In Cuba, home to 11 million people, Havana residents left work at midday to form long lines to buy food and water. Officials warned people to secure windows, stock up on water, candles and torches and move cars from flood-prone areas.

Residents feared ramshackle colonial-era buildings in downtown Havana might not survive, and President Fidel Castro's communist government prepared to evacuate 120,000 people if needed by setting up shelters in schools.

Some 2,000 tourists and hotel workers were airlifted from the island of Cayo Largo (Key Largo) off the south coast.

At 8 p.m. EDT, Charley was 90 miles south of Havana, at latitude 21.7 north and longitude 82.3 west, the hurricane center said. It was moving north-northwest at a brisk 17 mph as it passed the Isle of Youth.

Jamaican authorities said one person was killed when Charley swept south of the island on Wednesday.




Today's Top News
Top World News

Typhoon kills 63, injures 1,800 in Zhejiang




Experts: Consumer prices reach peak




Quake cracks reservoirs, 50,000 in danger




Chlorine leakage injures 70 in Jiangsu




Int'l patent fair opens with eye on technology




Olympic officials: No change in Beijing's plans