Raise a glass to painter Fu Baoshi, MA
(China Daily)
Updated: 2004-08-13 08:49
The word "master," or "dashi" in Chinese is somewhat overused in China. Alleged masters of all disciplines are found all over the country and a given era can often yield one or two so-called masters.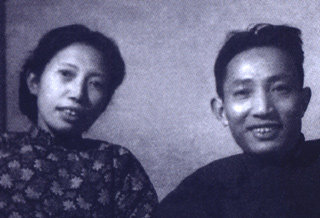 Fu Baoshi and his wife Luo Shihui had a picture taken at their home in Naning in 1947. [file photo]

But those who rank painter Fu Baoshi (1904-65) as a great among greats do so correctly.

"As a leader of the so-called New Chinese Painting Movement, which reformed traditional Chinese paintings after 1949, Fu outstood most of his contemporaries with his great passion for art, and his innovative brushwork and compositions of pictures," remarks Feng Yuan, director of the National Art Museum of China (NAMOC).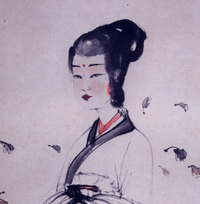 Madam Xiang, 1946

To mark the centenary of Fu's birth, exhibitions of his work are being and will be held around the world at prestigious galleries in New York and London, as collectors of his art include the Metropolitan Museum of Art, the Museum of Modern Art in New York and the British Museum in London.

An exhibition opened in Beijing on Wednesday and runs until August 18 at the NAMOC gallery.

Another showing of Fu's works held in private collections around the world - which include his calligraphies and seal carvings - will open at the Jiangsu Museum of Art in Nanjing, capital of East China's Jiangsu Province, running from August 25 to September 6.

From September 1 to 15, the Nanjing Museum, a major collector of Fu's art, will also hold an exhibition of the artist's works collected by the museum.

Also in September, Fu's solo show will cross the sea and open at the Sun Yat-sen Memorial Hall in Taipei, Taiwan Province.

The ongoing show in Beijing, hosted by the Chinese Ministry of Culture and Jiangsu provincial government, features more than 130 of Fu's most important pieces, says Fu Ershi, son of the master who is also an artist.

More than 40 of the pieces are from the collection of the Nanjing Museum, 30 from that of the Palace Museum, and about 20 from the NAMOC, says director Feng.

"The debut of my father's art in the collection at the Palace Museum is great because the public can see them for the first time. Even I have never seen some of the works on display. My mother donated them to the museum upon my father's death," explains Fu Ershi.

Displayed at the exhibition also include such famous pieces in private collection as the "Landscapes Described in Chairman Mao's Poems," which fetched a record price for Fu's art at 19.8 million yuan (US$2.4 million) last autumn at an auction in Beijing, and the "Madam Xiang" held by the family of late scholar and poet Guo Moruo (1892-1978).

The exhibitions in Beijing and Nanjing are all entitled "Qiming Weixin" (Born to Be Innovative). The phrase from "The Book of Songs" of the 6th century BC was carved on Fu's favourite seal and thus appeared often on his works.

"The life has changed, and the skills of painting must be changed accordingly," wrote Fu in the 1950s. He created new skills of brushwork and adventurous compositions but maintained the "essence," he said, of traditional paintings.

Fu's reforms were followed by a group of artists in Nanjing where he then lived. He was recognized as the founder of the Nanjing-based New Jinling School of Fine Arts.

The school included such important artists as Chen Zhifo (1896-1962), Qian Songyan (1898-1985), Song Wenzhi (1919-1999), Wei Zixi (1915-2003) and Ya Ming (1924-2002).

"Their work, which added a contemporary touch to traditional art, has been the most welcomed among contemporary Chinese paintings in the Chinese art market today," remarks Wang Yishan from the Rongbao Auction House, an affiliate of the famous art dealer Rongbaozhai, which spans 260 years.

The Nanjing-based artist was born in Xinyu, East China's Jiangxi Province. Son of a poor family, he achieved his success "with diligence," says his wife Luo Shihui.

"Work hard, and you have no other way to go but to success," Fu often said to his students.

He immersed himself in bookshops during his childhood, reading and memorizing the lines, as he couldn't afford the books. He hated the Spring Festival and thought the grand celebrations, loved by every other child, a waste of time, reveals Luo.

"Even during war times, and trying to escape from the Japanese invaders, he would read in the dim light in air-raid shelters. On the days he didn't read or write, he would sigh and say, 'I have wasted my meals today'," Luo recalls.

The artist had to attend meetings often in the late 1950s and early 60s. After, he would say, "it has destroyed half a painting, half a painting! I could have drawn half a painting with the time." And then, when he sat down for meal, he went on saying, "I am sorry for the wine. I am sorry for the meat."

But if given time to complete his work, he would say happily at meals: "Good wine. Really Good."

He was not considered self-centred, but was a hard-working artist and was a sensitive man who cared much about other people's feelings, says his student Shen Zuoyao, who is also a renowned artist.

When Fu became teacher at the Nanchang Art School, Jiangxi, in his early 20s after graduation, the single young man let two of his students who caught pneumonia live in his apartment, attending to them until they were well, says Shen.

It was at the school that he won the love of his student Luo Shihui, who became his wife in 1930 and appreciation of master artist Xu Beihong (1895-1953), who met Fu on a visit to Nanchang.

Xu helped the anonymous young artist study in Japan from 1933 to 1935, and employed him in 1935 as a teacher and later professor at the art department of the Central University in Nanjing, where Xu himself was the dean.

Among his colleagues at the Central University before 1949 and later at the Nanjing Normal Institute, Fu was also known for his "extravagant frequency in writing letters home, and love for liquor," says Shen.

"Once I travelled with him to Beijing for a one-month training programme, and he wrote back home 29 letters and made about 10 expensive long-distant phone calls. The last letters surely arrived in Nanjing after himself," he recalls.

Fu, whose art was distinguished with its boldness, said of himself that he "could only touch the paper with the brush in the right hand if there was a glass of liquor in the left hand."

"After a glass of liquor, he smoked one cigarette after another, and rubbed the paper-spread continuously. Suddenly he threw away the cigarette, dashed to the paper, and completed the general picture within 20 minutes. The whole process was like a thunderstorm," says his wife.

Being alert the next morning, Fu would wear his glasses and add details carefully to the picture.

Sometimes he could do nothing with his work from the night before because he got so drunk and the picture was often dyed into a cloud of black ink.

Besides "Born to Be Innovative," Fu had another favourite seal reading, which read: "Often Drunk."

When he took up the State commission to paint the "Jiangshan Ruci Duojiao" (Beautiful Landscape of the Motherland), which has been hung at the entrance of the Great Hall of the People since 1959, he had to make a special application to the then Premier Zhou Enlai (1898-1976) for "two boxes of liquor."

In September 1965 Fu travelled to Shanghai for one week and drank every evening while he painted art for the Shanghai International Airport.

Upon returning home, he asked Luo to prepare a large inkslab of ink, and ran upstairs excitedly to complete another painting for the Great Hall of the People.

"Two hours I had the ink grinded, and carried the inkslab to his room," Luo recalls.

The master was found lying silently before the uncompleted work, his brush dropped near by and his liquor spilled from the cup. The master had died as he lived.




| | |
| --- | --- |
| | |
| Aid and shoulders | |

| | |
| --- | --- |
| | |
| Zhou Xun plays lead role in new TV series | |

| | |
| --- | --- |
| | |
| Red fish headstrong | |
Today's Top News
Top Life News

Typhoon kills 63, injures 1,800 in Zhejiang




Experts: Consumer prices reach peak




Quake cracks reservoirs, 50,000 in danger




Chlorine leakage injures 70 in Jiangsu




Int'l patent fair opens with eye on technology




Olympic officials: No change in Beijing's plans