Sharon furious over call to close more settlements
(Agencies)
Updated: 2004-08-13 08:35
Israeli Prime Minister Ariel Sharon was said to be "furious" with his deputy Thursday for saying Israel will have to dismantle more settlements in the West Bank after it withdraws from Gaza next year.
A source in Sharon's office told Reuters that Vice Premier Ehud Olmert's comments that Israel would have to withdraw from more settlements if it wanted to remain a democratic Jewish state did not represent Sharon's views.
"It is the opposite of his position," he said. "The disengagement plan is the only plan on the table and we are not talking about anything beyond that." He added that additional settlement evacuations might be discussed in peace talks but were not part of Sharon's unilateral withdrawal plan.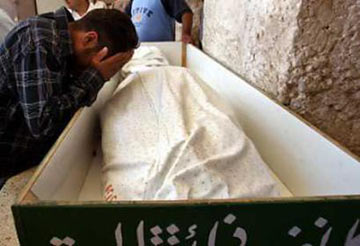 A Palestinian man cries over the body of Salah Rashid Abu Sneine, who was killed yesterday in a bomb blast, in East Jerusalem, August 12, 2004. Taking a rare swipe at militants, Palestinian Prime Minister Ahmed Qurie on Thursday condemned the bombing that inflicted both Israeli and Palestinian casualties as harmful to his people's interests. [Reuters]


The comments by Olmert, who is close to Sharon and often floats ideas at the prime minister's behest, may create difficulties for Sharon who is battling hard-liners in his Likud party opposed to a pullout from Gaza and the northern West Bank.

"In the future there will be a need to evacuate more settlements in Judea and Samaria (the West Bank) -- not because it's just, but because there is no choice if we want to remain a Jewish and democratic state," Olmert told settler leaders in a meeting to persuade them of the wisdom of the Gaza pullout plan.

He later watered down his comments, after they reportedly angered Sharon, by telling Israeli television he did not envisage any further withdrawals "in the near future."

Olmert has said Israel will eventually have to remove tens of thousands of the 230,000 settlers living in the West Bank and Gaza and has voiced fears of a "time bomb" of high population growth among Palestinians unless Israel gives them a state.

Under Sharon's plan for "disengaging" from conflict with Palestinians, Israel would uproot all 21 settlements in Gaza and four of 120 in the West Bank by the end of 2005.

But Sharon has made clear that Israel intends to cement its hold on swathes of West Bank territory where it has built large settlement blocs. Palestinians see his Gaza withdrawal plan as a ploy to annex chunks of the West Bank.

Olmert's remarks, which coincide with attempts by Sharon to widen his shaky coalition, could rile rebels in their right-wing Likud party who hope to stymie a Gaza pullout by blocking the entry of moderate parties into the government.

Sharon faces an important Likud meeting next week on efforts to bring the center-left Labor Party into the government.

PALESTINIAN ANGER

In the West Bank, Palestinian Prime Minister Ahmed Qurie -- taking a rare swipe at militants -- condemned a bombing that caused both Israeli and Palestinian casualties as harmful to his people's interests.

Qurie echoed criticism voiced by ordinary Palestinians over the attack Wednesday near an army checkpoint outside Jerusalem that claimed the lives of two Palestinian bystanders and wounded 19 other people, including six Israeli policemen.

"Such operations at this time and under these circumstances are not good for the Palestinian people. On the contrary they will negatively affect the Palestinians," he told reporters.

Militants from Yasser Arafat's Fatah movement claimed responsibility for the bombing, the first in the Jerusalem area in six months. They said they had targeted Israeli security men to avenge the deaths of comrades, and apologized for the Palestinian casualties.

The attack was followed within hours by an Israeli raid on a militant stronghold in Gaza, where troops demolished 11 houses.

A Palestinian sniper critically wounded an Israeli soldier during the raid, which the army said was the latest in a series of operations to uncover tunnels used to smuggle weapons across the border from neighboring Egypt. It said it had destroyed "abandoned structures used by terrorists to launch attacks."

Violence has surged in Gaza since Sharon unveiled plans to withdraw from the coastal strip, prompting Palestinian militants and the army to vie for supremacy there.




Today's Top News
Top World News

Typhoon kills 63, injures 1,800 in Zhejiang




Experts: Consumer prices reach peak




Quake cracks reservoirs, 50,000 in danger




Chlorine leakage injures 70 in Jiangsu




Int'l patent fair opens with eye on technology




Olympic officials: No change in Beijing's plans