Typhoon kills 63, injures 1,800 in Zhejiang
(chinadaily.com.cn/Xinhua)
Updated: 2004-08-13 08:32
Typhoon Rananim, the 14th this year, killed at least 63 people and injured over 1,800 people in east China's Zhejiang Province, according to a Qiangjiang Evening News report.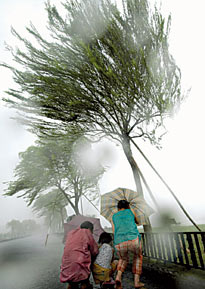 Three pedestrians in Hangzhou struggle with their umbrellas in strong winds and rain brought by the Typhoon Rananim Thursday. [newsphoto]
There were also 15 people reported missing, the Zhejiang-based newspaper reported. The hurricane also pulled down over 2,200 houses.
Meanwhile, 63 fishing boats with more than 60 people on board were trapped at sea.
Rananim first landed on Shitang Township in the city of Wenling at 8 pm with winds moving at a speed of 45 metres per second, bringing the rainstorm to most parts of the province. The precipitation was as much as 200 millimetres in some areas.
Shitang Township was plunged into darkness when power was cut off and signals from telephone and mobile phone services were reported dead.
The centre of the typhoon was moving at 25 kilometers per hour to the northwest and was expected to tear through southern parts of cities of Ningbo and Shaoxing, northern part of city of Jinhua, and southern and western parts of provincial capital city of Hangzhou and then into East China's Anhui Province, according to local meteorological observatory.
Strong rainfall hit most coastal areas in Zhejiang. This typhoon could be stronger than the No 17th typhoon in 1997, which caused 236 deaths and a direct economic loss of 19.77 billion yuan (US$2.38 billion), experts with Zhejiang Provincial Flood Control and Drought Relief Headquarters said.
The province had launched emergency programmes to evacuate 278,000 people in the coastal areas in Wenzhou, Taizhou and Zhoushan cities before the typhoon.
Typhoon Rananim would soon land at coastal city of Wenzhou, also Zhejiang Province.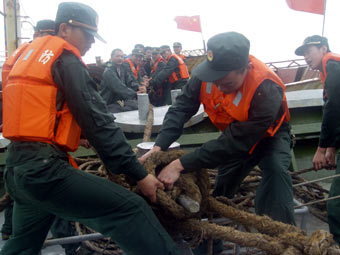 Border guards in the city of Taizhou, East China's Zhejiang Province, fasten the fishing boats after moving 1,000 of them into safe places to face the threat of the approaching typhoon Rananim, the 14th typhoon this year. [newsphoto]


Premier Wen Jiabao required local authorities to make full preparations to prevent casualties and reduce losses to the minimum.

State Flood Control and Drought Relief Headquarters issued a typhoon emergency alert for the eight provinces and municipalities in eastern and central China Thursday. The agency called on local departments to be fully prepared for the typhoon and to inform residents to brace themselves for more rain and wind.

Preparations had been made in Shanghai for the coming of the typhoon.

Fortunately, the typhoon was moving northwest toward East China's Anhui Province and the city was lucky to be only swept by the edge of the monster storm.

Shanghai municipal construction administration has notified all construction units to stop work until the removal of the alerts while enhancing the inspection and management of all construction sites, fastening scaffolds, cranes and work sheds.

Power sources of all neon signs have been cut off and all outdoor canvas advertisement signs have been removed in the city.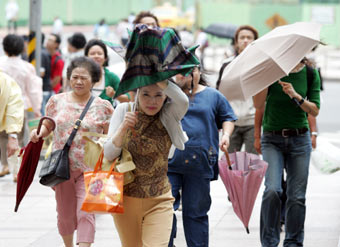 Pedestrians in Taipei, Taiwan Province, struggle with their umbrellas in strong winds and heavy rain brought on by typhoon Rananim Thursday. [Reuters]


Meanwhile, Taiwan suspended ship refueling services at a northern port and cancelled some inland flights Thursday as strong winds and heavy rain brought by Typhoon Rananim lashed the island.

Local media citing the account of a meteorologist, said that residents should be vigilant against possible landslides, falling rocks, flash floods and rising water levels as torrential rains are expected in the north, northeast and south central mountain regions.

Statistics show that from 1949 to 2003, fourteen typhoons made landfalls in East China's Fujian and Zhejiang provinces during the month of August, from the first through the 20th. Thirteen of the typhoon centres reached inland areas.




Today's Top News
Top China News

Typhoon kills 63, injures 1,800 in Zhejiang




Experts: Consumer prices reach peak




Quake cracks reservoirs, 50,000 in danger




N.J. governor resigns, admits gay affair




Chlorine leakage injures 70 in Jiangsu




Int'l patent fair opens with eye on technology