US Marines seize center of Najaf, oil hits record
(Agencies)
Updated: 2004-08-13 08:30
U.S. Marines backed by tanks and aircraft seized the heart of the holy Iraqi city of Najaf Thursday in a major assault on Shi'ite rebels that drove world oil prices to record highs.
Warplanes pounded militia positions in a cemetery next to the Imam Ali Mosque while U.S. forces stormed the home of a radical cleric at the center of the weeklong uprising that has killed hundreds in seven cities.
Cleric Moqtada al-Sadr was believed to be holed up in the mosque along with hundreds of his Mehdi Army militia, witnesses said.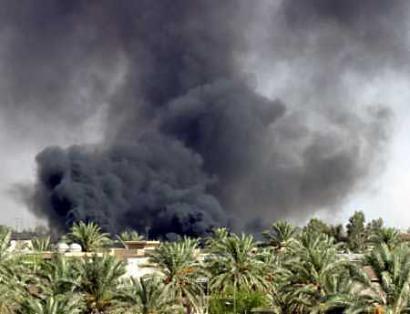 Smoke rises over the Iraqi city of Najaf August 12, 2004 during an assault by U.S. led forces. U.S. Marines backed by tanks and aircraft seized the heart of the holy Iraqi city of Najaf in a major assault on Shi'ite rebels, but they kept out of a site sacred to millions of Shi'ites around the world. [Reuters]


Interim Iraqi Prime Minister Iyad Allawi urged the militiamen to lay down their arms and leave the mosque, a site sacred to millions of Shi'ites around the world.

The U.S.-led assault in such a sacred city for Iraq's majority Shi'ite community could spark a firestorm for Allawi, who needs to crush a rebellion that has disrupted vital oil exports and threatened to undermine his 6-week-old government.

"This government calls upon all the armed groups to drop their weapons and rejoin society. We call upon all the armed men to evacuate the holy shrine and not to violate its holiness," Allawi said in a statement read by a senior official.

Oil prices hit new highs on the offensive, which the militia has warned could trigger more attacks on oil infrastructure. Crude oil futures in New York peaked at $45.75 a barrel, the highest price in 21 years of trade on the New York Mercantile Exchange.

Late in the afternoon, U.S. warplanes bombed targets near Sadr's house as Marines battled militiamen in the area. Black smoke billowed as combatants exchanged heavy fire. U.S. forces stormed Sadr's house just before nightfall.

Marines also blocked entry to the Imam Ali Mosque. After nightfall, witnesses said the city appeared largely calm.

MANY KILLED IN OTHER CITIES

In the southeastern city of Kut, at least 72 people were killed in U.S. air raids and fighting between Iraqi police and the Mehdi Army Thursday, the Health Ministry said.

The U.S. military said it had deployed its heavily armed AC-130 gunship to attack insurgents in the area and that more than 20 buildings had been destroyed.

The health ministry said 25 people were killed in clashes in Baghdad and 21 in other cities in the past 24 hours. There were no immediate casualty figures from the Najaf offensive.

Protests broke out in Baghdad and the southern city of Basra after the start of the offensive.

Wary of igniting more anger, the U.S. military said the assault would exclude the Imam Ali Mosque. Government officials said only Iraqi forces would disarm militia inside.

But the Mehdi Army raised the prospect of a bloody battle, vowing no surrender and saying Sadr was leading the defense at the shrine and vast cemetery, one of the Middle East's largest.

"The morale of the fighters is very high," said Ahmed al-Shibani, a senior Sadr spokesman in Najaf.

Despite threats from the militia, Iraq reopened its main southern oil export pipeline after a sabotage attack Monday and expects full supplies by late Thursday, an official said.

Analysts warned of a backlash even if the Imam Ali Mosque is undamaged and the militia beaten in Najaf. They said resentment could pose long-term consequences for Allawi.

"This has the potential to be a highly destructive bout of fighting," said Gareth Stansfield, a Middle East expert at London's Royal Institute of International Affairs.

"It's not just the physical damage, it's the symbolism of the Americans being in Najaf as well that is damaging."

PROTESTS ERUPT

Militiamen responded to the American assault in Najaf with rocket-propelled grenades and mortar bombs. Many civilians fled the center of the city, some escaping on carts pulled by donkeys.

Some 2,000 U.S. servicemen and 1,800 Iraqi security men are deployed around Najaf, a city of 600,000 about 100 miles south of Baghdad.

The U.S. military said Iraqi forces were actively involved in the offensive, although witnesses said American troops were doing most of the fighting.

As news of the offensive filtered in, thousands of Shi'ites took to the streets in Basra and a Baghdad district to protest.

"Long live Sadr; America and Allawi are infidels," thousands of protesters in Basra chanted.

A Reuters photographer said he had seen dozens of dead militiamen in civilian houses in Najaf. He said the bodies had been taken from the battle zone and covered in ice to preserve them before burial. It was unclear when they had been killed.

Iraq's most influential Shi'ite cleric, Ayatollah Ali al-Sistani, who is in London undergoing medical treatment, called for an immediate end to the fighting in his hometown, aide Hussein Shahristani said.

"All efforts should be directed to finding a peaceful solution. A military solution will resolve nothing," he said.

The latest fighting has shattered a two-month truce between U.S. forces and their most vocal critic in Iraq.

U.S. forces say they have killed 360 Sadr loyalists so far in Najaf. Sadr's spokesmen say far fewer have died in what is the second rebellion by the militia in four months.




Today's Top News
Top World News

Typhoon kills 29, injures 1,500 in Zhejiang




Typhoon Rananim kills 22 in Zhejiang




Experts: Consumer prices reach peak




Quake cracks reservoirs, 50,000 in danger




Chlorine leakage injures 70 in Jiangsu




Int'l patent fair opens with eye on technology