Nearly 50,000 are threatened by possible dam collapses at 22 reservoirs because of Tuesday's earthquake, which has already left one-third of the population homeless in a poverty-stricken county in Southwest China.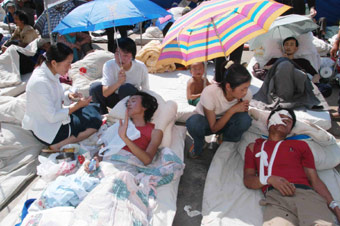 People injured in an earthquake receive treatment at a hospital in southern Yunnan province. [newsphoto]


The State Flood Control and Drought Relief Headquarters said Thursday about 47,000 people living near the 22 endangered reservoirs have been threatened because the earthquake has caused some cracked in the dams in the quake-jolted Luandian and Zhaoyang counties of Yunnan Province.

But the headquarters said the water levels of all the reservoirs were below the safety line.

The death toll rose to four Thursday when relief workers were rushing tents and other supplies to the county.

Local sources said the area is in urgent need of relief funds, materials and medicine.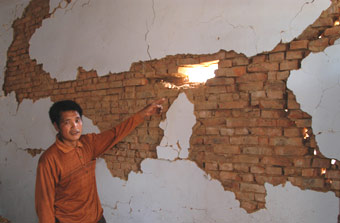 A villager in Ludian county shows a crack on the wall of his residency. [newsphoto]


Zhaotong Mayor Deng Xianpei said the city had to resettle 126,000 locals after the quake as 18,556 houses had collapsed.

More than 6,050 tents have already arrived, but the county is still waiting for funds for to resettle the victims, said Deng, whose county in the northeast of Yunnan was rocked by an earthquake measuring 5.6 on the Richter scale at 6:26 pm on Tuesday.

The catastrophe has killed four people and injured 594 people. Some hospitals have been damaged in the quake, but the number of injured is rising. Antibiotics and disinfecting medicines are "scarce," said Deng.

More than 200 of those injured were in a serious condition and hospitals were struggling to cope, medical officials said.

Casualty wards at the No. 1 People's Hospital in Zhaotong were filled to capacity and some injured were being placed in other clinics, said a source at the hospital's administrative office.

Ludian, which is one of China's poorest counties, also needs funds to provide compensation for the tragedy-hit people. The quake almost entirely wiped out the flue-cured tobacco industry, the backbone of the region. Statistics show that 130,000 people will have to rely on relief food supplies over the next eight months, a total of 15.6 million kilograms of grain.

The county has a population of 370,000, and the average income of local farmers' was only 1,000 yuan (US$120) last year, an amount equal to one month's average school fees in Beijing.

Tuesday's tremor was the third earthquake to hit Ludian county in a year. Two earthquakes measuring 5.1 and 5.0 on the Richter scale hit the county on November 15 and 26, 2003. Four people were killed and 120 injured in the two previous quakes.

Deng also predicted that the county might need 80 million yuan (US$9.6 million) for its reconstruction, adding that the transport, communications and reservoirs have been severely damaged in the three recent quakes.

There is also the possibility of aftershocks of 4 or 5 on the Richter scale, according to the China Seismological Bureau.

Wu Xiaoqiong, a duty officer at Ludian's earthquake monitoring station, said 146 aftershocks had been recorded since the quake, including a tremor of 3.9 on the Richter scale early on Wednesday.

The aftershocks were declining in strength and it was not clear whether they had caused any additional damage, Wu said.

The relatively low death toll might have been connected to the timing of the quake, which struck at 6:26 pm, before many families went to bed.

Governments at various levels have given great attention to the tragedy. President Hu Jintao and Vice-Premier Hui Liangyu have personally asked the local government to do a good job in the rescue and relief.

A relief team led by Yang Yanyin, vice-minister of civil affairs, arrived at the quake-hit areas on Wednesday afternoon to direct the rescue and relief work. The ministry has allocated 4,000 tents to the affected areas.

The Ministry of Finance and the Ministry of Civil Affairs have also allocated 12 million yuan (US$1.4 million) in emergency relief to Ludian to resettle quake-affected resident, treat the injured and provide temporary shelters.

Xinhua contributed to this story