Sudan says West after country's oil, gold
(Agencies)
Updated: 2004-08-12 21:47
Sudanese President Omar Hassan al-Bashir on Thursday accused Western nations of interfering in its troubled western Darfur region to try to exploit Sudan's gold and oil resources.
Sudan is under intense international pressure to rein in Arab militias, accused of looting and burning African farming villages, and provide security for more than 1 million people displaced by the fighting in the remote area bordering Chad.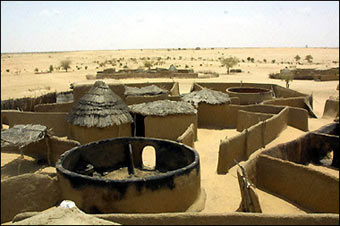 The village of Tundubai in Sudan's Darfur region, burned down by the marauding Janjaweed Arab militias. [AFP]

If not, the U.N. Security Council in a July 30 resolution says Khartoum could face unspecified sanctions. There has also been talk of possible foreign troop intervention in Darfur.

Bashir on Thursday said Western nations, especially Britain, were inflaming the Darfur fighting to destabilize wider Sudan.

"There is an agenda to seek for petrol and gold in the region," he told a women's union meeting on Darfur in Khartoum on Thursday.

"This highlife that they (the West) enjoy now is a result of the theft of the colonies and their riches and peoples," he added with specific reference to Britain, which granted Sudan independence in 1956.

Sudan's two main oil fields are in the south and Khartoum is hopeful of more oil discoveries in Africa's largest country. The budding oil-producer earns about $2 billion a year from oil output of about 300,000 barrels per day.

Chad, which neighbors the Darfur region, has in recent years begun to exploit its oil reserves and analysts say that oil could also be present in Sudan.

Sudan and rebels from the south have agreed a plan to end 21 years of civil war affecting the south. But a fresh conflict arose in the west of the country along the border with Chad in February last year.

Two rebel groups accused Khartoum of neglect and of arming the Arab militias known as Janjaweed to drive African farmers from their lands in campaign of ethnic cleansing in Darfur. The U.S. Congress has dubbed the violence a "genocide."

Sudan denies the charges saying the Janjaweed, a term derived from the Arabic for devils on horseback, are outlaws.

PEACE TALKS

The rebels said on Thursday they would attend African Union sponsored peace talks in Nigeria at the end of the month to find a political solution to the conflict the U.N. estimates has claimed about 50,000 lives.

But both groups expressed problems with the Aug 23. date.

"We thought we could have been sufficiently consulted before fixing the date in particular but nevertheless we will go," said Sudan Liberation Army (SLA) spokesman Ali Trayo from Asmara.

Bahar Idriss Abu Garda, secretary-general of the Justice and Equality Movement (JEM), the other main rebel group said: "Yes, we are going to the talks, but we have some remarks about the time they decided because we have a conference in Germany at same time."

"Because of that we want to postpone the time," he added.

The SLA also said the date gave them little time to organize and inform their movement commanders scattered throughout Darfur, a remote area the size of France.

The U.N. says the conflict has triggered the world's worst humanitarian crisis with about 200,000 refugees in neighboring Chad and 2 million short of food and medicine.

The world body said on Tuesday Sudan was still imposing some restrictions on aid flights causing "major delays" in the deployment of aid workers.

REBELS AGREE AID ACCESS

JEM's Abu Garda said for their part, the rebels agreed with the World Food Program (WFP) to give the U.N. body access to rebel-held areas in Darfur to distribute food.

"Our delegation in Asmara headed by our president and also the SLA agreed ... and we will commit ourselves to execute this. In our whole area the WFP are free to come and see the people," he said, adding they would be afforded full protection.

But he added that JEM could not protect them if the government bombed their areas despite an April truce.

"The government should commit itself to stopping any flyovers of our territories," he said.

The AU has deployed cease-fire monitors to the region and the Netherlands is to begin airlifting more than 150 Rwandan troops to Darfur on Saturday to protect the observers.

The AU hopes to increase the agreed number of about 300 protection troops from Rwanda and Nigeria to 2,000 and to increase their mandate to peacekeeping, which Sudan refuses.

Tanzania said on Thursday it was considering an AU request to send in peacekeeping troops as part of the expanded mission.

Rights group Human Rights Watch said atrocities like rape were still happening in Darfur, despite government promises to bring security to those displaced.

Sudan has rejected the idea of foreign peacekeepers saying its troops alone were responsible for that mission.




Today's Top News
Top World News

Typhoon kills 63, injures 1,800 in Zhejiang




Experts: Consumer prices reach peak




Quake cracks reservoirs, 50,000 in danger




Chlorine leakage injures 70 in Jiangsu




Int'l patent fair opens with eye on technology




Olympic officials: No change in Beijing's plans