Aid and shoulders
By Lionel Seah (Agencies)
Updated: 2004-08-12 15:35
Zhang Ziyi loves it, and she is not the only star won over by the off-the-shoulder look. Here is how to carry off that style with panache.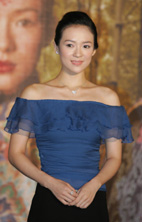 Zhang Ziyi in an off-the-shoulder top at a news conference to promote the movie House Of Flying Daggers. [Reuters]

Zhang Ziyi wore the look in the latest Zhang Yimou film, House Of Flying Daggers.

We are talking about the classic, off-the-shoulder style.

The Chinese actress evidently likes it so much she has been photographed in the look lately. And it seems, she is not the only one won over by it.

Just look at this gallery of shoulder-baring celebrities.

What makes it a favoured style among celebrities and non-celebs alike is that it hints of flesh but yet leaves something to the imagination, say fashion stylists.

The off-the-shoulder look can be achieved by wearing a bustier or strapless top or dress, or a tube.

Surprisingly, it is highly suitable for women who are under-endowed in the chest area, says fashion designer Daniel Yam.

'For some reason, this style looks very good on thin, gamine women. Or women with good collar bones,' he says.

Women with shoulders like Olympics hopeful Ian Thorpe or those who are blessed with D-sized cups should avoid the off-the-shoulder look though.

'Women who are overly busty can look too Playboy-ish in this style,' says Colin Koh of Singapore fashion label, M)phosis.

Here is how designers like Yam and Koh recommend you wear it:

Accentuate your neckline with necklaces to draw attention to it or to your decolletage, the area between your neck and your bosom.

For women with short necks, long chains give the impression of length; women with long necks should opt for chokers.

Off-the-shoulder is charming, as long as you choose your underpinnings wisely: Visible bra straps are a definite no-no.

Choose a fabric that has some stretch element in it, like lycra or knits.

If you are a little flat in the chest area, pad out your breasts with a push-up bra.

Oh, and make sure it fits. Remember, it is off-the-shoulder, not off the breasts.




| | |
| --- | --- |
| | |
| Aid and shoulders | |

| | |
| --- | --- |
| | |
| Zhou Xun plays lead role in new TV series | |

| | |
| --- | --- |
| | |
| Red fish headstrong | |
Today's Top News
Top Life News

US officer indicted for beating Chinese woman




Germany crush China 8-0 in scoring spree




Proposal for Taiwan's UN entry condemned




China to launch 1st moon probe in 2 years




Hotels slammed for shunning AIDS orphans




WTO: China, India to dominate textiles