Germany crush China 8-0 in scoring spree
(Xinhua)
Updated: 2004-08-12 13:09
Women's soccer world champion Germany enjoyed a scoring spree in their opening match at the Athens Olympic Games with a 8-0 win over China in Patras on Wednesday.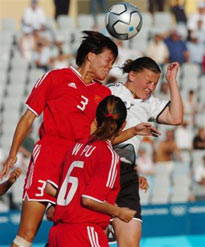 China's Li Jie, left, fights for the ball with Germany's Pia Wunderlich as Pu Wei looks on during a women's Group F preliminary soccer match between Germany and China in Patras, Greece, Wednesday. [AP]

In the match what had been expected as a tit-for-tat one, Germany displayed an overwhelming power over their Chinese rivals, opening the score at the 13th minute through striker Birgit Prinz.

Prinz started her solo show when she headed home a cross by Stegemann Kerstin 13 minutes into the match.

Less than 10 minutes later, the two Germans, duplicated their dual tricks: a cross by Kerstin and a header by Prinz

"After losing two goals in the first half, we should have formed a better defense line, but unfortunately my attacking strategy proved to be a disaster," said Zhang Haitao, head coach of the Chinese team.

Zhang said he intended to fight back in the second half by throwing his players to the front, thus neglected the defense line.

Zhang's strategy was echoed by German coach Tina Theune-Meyer.

"What the Chinese side lack is their attacking", Theune-Meyer said.

However, a loose defense line made the Chinese goal an easy target, when Prinz, two headers to her credit, shot home two goals into the Chinese net, while her teammates added four more.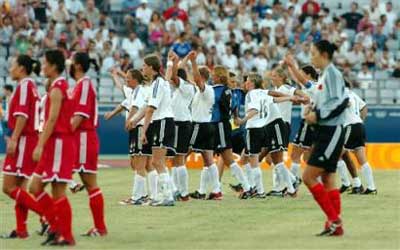 Germany's players wave to spectators after winning China 8-0 during a women's Group F preliminary soccer match at the Pampeloponnisiako stadium during the 2004 Olympic Games in Patras, Greece, on Wednesday, Aug. 11, 2004. [AP Photo]
The Chinese did produce a few scare in front of the German goal, but ended fruitless due to the lack of adequate finishing touch.
"The goal difference is too much for the opening match," a German spectator said, adding that the big margin made the match not as entertaining as it should have been.
Talking about the Olympics warm-up match when China edged Germany 1-0 last March, the German said, "that might be a trick."
Bronze medallists at the Sydney Games in 2000, Germany is widely regarded as one of the favorites, while China, who finished fifth in Sydney, has put its goal in the top four.
Germany will play Mexico in the first round of Group F on August 17, while China meets Mexico on August 14.