Kate Moss - The sexiest woman of all time
(Agencies)
Updated: 2004-08-12 09:39
Supermodel Kate Moss, 30, was declared the sexiest woman of all time according to a poll conducted by men's magazine "Arena" to mark its 150th issue.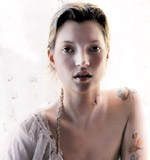 Kate Moss

Respondents were asked to pick the sexiest women out of 150 nominations. The honorable second and third places took actresses Charlize Theron and Keira Knightley respectively.

Frequently censured for her skinniness, Kate is remembered as the model who took the Twiggy style to new heights.


Oscar-winning actress Charlize Theron

Despite her short stature, she still remains one of the top supermodels in the world - her extremely subtle look and style continues to attract fashion makers.

In spite of jokes about starving worse than third world countries and blowing away at a puff of wind aside and her unhealthy image (she is known as a heavy smoker and drug and alcohol addict), Kate (as it proved) is nevertheless considered beautiful by many, just the way she is.




| | |
| --- | --- |
| | |
| Fish stranded in drop of water | |

| | |
| --- | --- |
| | |
| Aid and shoulders | |

| | |
| --- | --- |
| | |
| Zhou Xun plays lead role in new TV series | |
Today's Top News
Top Life News

Typhoon kills 63, injures 1,800 in Zhejiang




Experts: Consumer prices reach peak




Quake cracks reservoirs, 50,000 in danger




Chlorine leakage injures 70 in Jiangsu




Int'l patent fair opens with eye on technology




Olympic officials: No change in Beijing's plans