Jurors hear US killer's calls to mistress
(Agencies)
Updated: 2004-08-12 08:52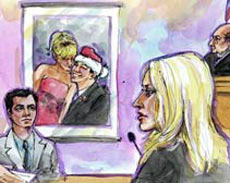 Frey, right, is shown testifying Tuesday with Peterson to the left and a holiday picture of the pair above him. [AP]

Only days after Laci Peterson disappeared, Scott Peterson told his mistress "we could be wonderful together ... for the rest of our lives," according to a taped phone conversation played in court Wednesday.

Amber Frey, resuming her testimony at Peterson's murder trial, confirmed that she recorded the calls at the request of police after discovering that her lover was not only married, but suspected in the disappearance of his pregnant wife, Laci, on Christmas Eve in 2002.

On December 31, the same day he attended a vigil in Modesto for his missing wife, Peterson called Frey "sweetie" and lied that he was standing near the Eiffel Tower, hearing fireworks in the middle of a huge New Year's crowd, according to a tape played for the jurors Tuesday.

"So what, do you want to be together with me?," Frey asked him in another call, early that January 1, that was played to jurors Wednesday.

"Well, I mean, obviously ... I think that we, you know, would be wonderful together," Peterson responds. "You know, in my mind we could be wonderful together and I could ... I could care for you in any and every way. For the rest of our lives."

Frey, a massage therapist who has become the government's star witness, testified Tuesday that she discovered Peterson had lied to her when a friend called her on December 29 after seeing a news report about his wife's disappearance.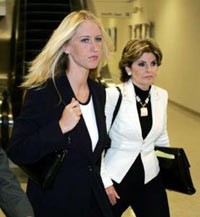 With her attorney Gloria Allred at right, Amber Frey leaves the courthouse after her second day of testimony during the Scott Peterson double murder trial in Redwood City, California, August 11, 2004. after testifying in Peterson's double homicide trial. Peterson is being tried and could faced the death penalty if he's convicted of two counts of murder for the deaths of his wife, Laci, and the couple's unborn son. [Reuters] [Reuters]

Frey testified that their relationship had quickly progressed in two weeks from a hotel-room tryst after one blind date on November 20, 2002, to something serious enough for her to trust him alone with her young daughter.

Peterson didn't wear a wedding ring and left her only his cell phone number after they met on a blind date. After their second tryst together, she gave him a car seat and the key to her house and had him pick up her 22-month-old daughter at day care.

The next day, they bought a Christmas tree together, decorated it and had sex again. It wasn't until December 9 -- three days after Frey's friend discovered he was married and confronted him -- that he confessed to her that he had lied, and tearfully said he had "lost his wife," she testified.

At the time, Frey said she understood Peterson to mean that his wife was dead. "I thanked him for sharing that with me," she said, adding that she asked him if he still wanted to have a serious relationship with her. "He said, absolutely," she said.

Prosecutors appear to be trying to show that Peterson began hatching the murder plot at about this time -- evidence shows he searched for used boats on December 7-8, as well as numerous Web sites for fishing information, currents in San Francisco Bay and details on area boat ramps.

Prosecutors allege Peterson killed his wife in their Modesto home on or around December 24, 2002, then drove to the bay and dumped her weighted body from a small boat he had purchased just weeks earlier. The badly decomposed remains of Laci Peterson and the couple's fetus washed ashore in April 2003, not far from where Peterson said he launched a solo fishing trip the day she vanished.

Frey has not been cross-examined -- an opportunity the defense likely won't get for at least another day.




Today's Top News
Top World News

Trading surplus up for third month




Quake kills 3, injures some 600 in Yunnan




China to launch 1st moon probe in 2 years




Efficient coal usage urged to ease shortage




Olympics: Women's soccer suffers blow




China denies co-op with US-based Worldedo