US Marines ready Najaf assault, oil threatened
(Agencies)
Updated: 2004-08-12 08:46
U.S. Marines Wednesday said they were preparing a final assault on militia in the Iraqi Shi'ite holy city of Najaf, but a militia leader warned they would retaliate by bombing vital oil pipelines in the south.
The New York Times said that after preparing for a major attack on militia loyal to cleric Moqtada al-Sadr in Najaf Wednesday, U.S. forces called it off as it was about to begin. The radical cleric called on his men to keep fighting, even if he was killed.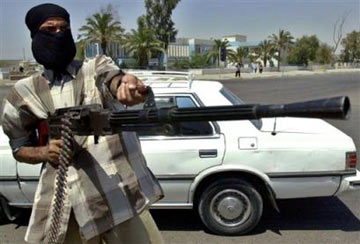 An armed Mahdi soldier takes to the streets during fighting between British forces and militants loyal to the radical Shiite Cleric Muqtada al-Sadr in the southern city of Basra, Iraq Aug. 11, 2004. In the southern cities of Nasiriyah, Basra and Samawah, insurgents targeted coalition forces with mortars and rocket-propelled grenades as hostilities in the holy city of Najaf and through out other cities in Iraq entered their seventh day. [AP]


The Times said officers described the move as a postponement and said the attack could go ahead at any time. U.S. officers with knowledge of the plans could not be reached for comment.

A senior official of al-Sadr's Mehdi Army warned that militiamen would blow up pipelines in the south if U.S. forces launched the assault.

"If the U.S. forces attacked Najaf tonight, we will blow up the oil pipelines," Sheikh Asaad al-Basri, the leader of the Mehdi militia loyal in the southern city of Basra, told Reuters.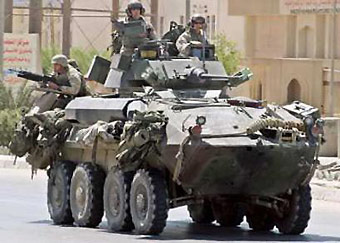 A U.S. Marine armored vehicle patrols a street in Najaf, August 10, 2004. U.S. forces pounded Shi'ite militia from the air and ground in Najaf Tuesday, and used loudspeakers to urge the entrenched fighters to lay down their weapons. [Reuters]


The threat came a few hours after crews finished repairing Iraq's main southern oil export pipeline and were awaiting orders to start pumping after sabotage stopped operations for three days, an official said.

Oil prices climbed after the threat with U.S. light sweet futures up six cents to $44.58 in floor trade, more than $1 up from the day's low.

As a bloody showdown loomed between U.S. troops and Sadr's militia, thousands of his supporters vented their anger against interim Prime Minister Iyad Allawi in the streets of Nassiriya and several other cities.

In another development, a Web site used by Islamic militants carried a video purporting to show militants beheading a "CIA agent" in Iraq.

The four-minute long footage showed a Western-looking man sitting on a chair surrounded by armed masked men. One of the men struck the captive's neck repeatedly with a sword, severing his head amid shouts of "Allahu Akbar" (God is greatest).

The video could not be immediately authenticated.





Today's Top News
Top World News

Trading surplus up for third month




Proposal for Taiwan's UN entry condemned




US officer indicted for beating Chinese woman




China to launch 1st moon probe in 2 years




Efficient coal usage urged to ease shortage




Olympics: Women's soccer suffers blow