Quake kills 3, injures some 600 in Yunnan
By Fu Jing (China Daily)
Updated: 2004-08-12 01:45
Three people have died and up to 600 have been injured in an earthquake in Southwest China's Yunnan Province on Tuesday.
Local sources said at least 594 people were injured, 142 of them seriously, in a quake measuring 5.6 on the Richter scale, which rocked Ludian County in the city of Zhaotong on Tuesday night.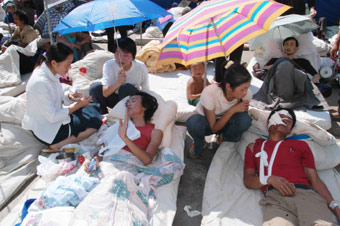 People injured in the earthquake receive treatment at one of Ludian County's three hospitals. The hospital is so crowded that many patients have to stay in the courtyard. [newsphoto]

Deng Xianpei, mayor of Zhaotong , said the quake killed three locals, two in Ludian county and one in Zhaoyang District of Zhaotong .

He said the casualties are expected to rise because there were large number of serious injuries.

Hou Jiansheng, a seismologist at the China Seismological Bureau,said the number of dead and injured in Ludian would probably rise because "it's a poor rural area and their facilities are not very good."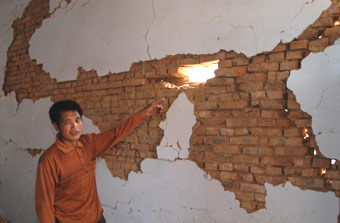 A woman takes care of his son who was injured during the earthquake. [newsphoto]

Hospitals have been overwhelmed with the injured and some had to be treated outside in the open.

In Ludian county's Buga Village, teenager Li Zhangmei lost her mother and her father was treated in hospital for serious injury.

But some were lucky.

Villager Ma Zhengbing's family home collapsed but they all escaped because they were working in the fields when the tremors started.


More than 5,000 homes were flattened and thousands more damaged, said a spokesperson from the county government.

Many homes are now too dangerous to live in, said an unidentified local official in the county.

The county's three hospitals are all packed with the injured, he said.

He said there had been some 92 aftershocks was still being carried out.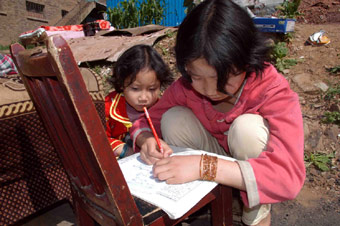 A girl does her homework yesterday on a broken chair after her family's house was badly damaged by the earthquake. [newsphoto]

Residents were living in tents or sleeping outdoors, but summer temperatures were comfortable and supplies of drinking water and food were adequate, the official said.

President Hu Jintao urged governments at all levels to provide as much help as possible.

More than 7,000 tents have been sent to the disaster-hit villages.

This is the third major quake to hit the county within a year. This time the epicentre was just 255 kilometres north of Kunming, the provincial capital. Four people were killed and 120 injured in the two others, which struck in November and measured 5.1 and 5.0 on the Richter scale.

Ludian county, in the east of Yunnan Province, has a population of 370,000. It is one of China's poorest counties.




Today's Top News
Top China News

Trading surplus up for third month




Proposal for Taiwan's UN entry condemned




China to launch 1st moon probe in 2 years




Efficient coal usage urged to ease shortage




Olympics: Women's soccer suffers blow




China denies co-op with US-based Worldedo