Car bomb near Jerusalem kills two, wounds 16
(Aencies)
Updated: 2004-08-11 22:49
A bomb exploded between two Israeli army checkpoints on a busy transit route outside Jerusalem on Wednesday, killing two Palestinians and wounding 16 people, medics said.
Israel Radio said a Palestinian in a car being checked by police at the West Bank checkpoint of Qalandiya was believed to have detonated a bomb either hidden on his person or rigged to the vehicle.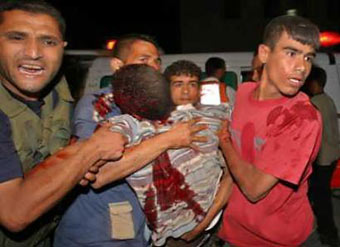 Palestinians carry a wounded youth after he was injured in Khan Younis refugee camp, southern Gaza Strip August 11, 2004. An Israeli helicopter fired a missile into a Gaza refugee camp, wounding 15 people as gunmen confronted an Israeli force demolishing Palestinian homes near a Jewish settlement, witnesses said. [Reuters]


Militants in Palestinian President Yasser Arafat's Fatah faction claimed responsibility for the attack.

Witnesses said the blast, which broke a lull in such bombings, occurred after Israeli border police declared a security alert and began combing the area between Qalandiya and A-Ram checkpoints on a main road between Jerusalem and the West Bank city of Ramallah.

Palestinian medics in Ramallah said two Palestinians were killed and nine wounded, including a boy in critical condition. Israeli medics said seven Israelis were wounded.

Palestinian militants have carried out dozens of suicide attacks and car bombings against Israelis during a revolt launched almost four years ago in the West Bank and Gaza, territories Israel occupied in the 1967 Middle East war.

In pre-dawn violence in the Gaza Strip, an Israeli helicopter fired a missile into the Khan Younis refugee camp, wounding 15 people as gunmen confronted an Israeli force demolishing Palestinian homes near a Jewish settlement.

Violence has surged in Gaza as militants seek to portray Israel's plan to evacuate Jewish settlers from occupied territory next year as a victory, while Israel is determined to prevent that by smashing Palestinian armed factions first.

An Israeli military source said the army was carrying out an operation against Palestinian militants in Khan Younis and the helicopter had fired at an "open area" to repulse armed men.

Palestinian medics said most of the wounded were civilians, including two children and a woman. At least one gunman was among the casualties. One person was in critical condition.

Palestinian witnesses later said ground forces operating in the area had pulled back, leaving a string of demolished buildings in their wake.

The Israeli unit -- comprising 10 tanks, armored personnel carriers and bulldozers -- withdrew from the camp after daybreak, military sources confirmed.

The night-time incursion drew fire from gunmen, witnesses said. A helicopter then launched a missile which the witnesses said exploded near a group of Palestinians.

DEMOLITIONS

Residents fled into the night as Israeli bulldozers flattened homes bordering the adjacent settlement of Neve Dekelim, where witnesses said a security wall is being built. The army has mounted several such raids in the area recently.

The Israeli military is concerned it may have to "disengage" from Gaza under fire from militants, who have often launched mortars and rockets at settlements where some 8,000 Jews live.

Israel has carried out many aerial missile strikes and ground offensives in Gaza and the West Bank in rolling campaigns to quell Palestinians in revolt since 2000.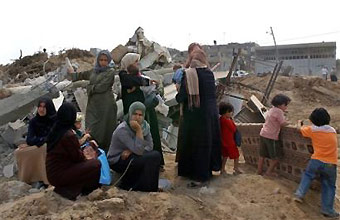 Palestinian women and children sit by the rubble of their house which was destroyed by Israeli army bulldozers during the six-week army operation, in the northern Gaza Strip town of Beit Hanoun Thursday, Aug. 5, 2004. [AP]


The Israeli army shut Gaza's border with Egypt for three hours on Wednesday, Palestinian officials said, five days after reopening it following a three-week closure that stranded 1,500 Palestinian travelers in searing heat and squalor.

Salim Abu Safiyah, Palestinian security chief at the Rafah terminal, said travelers arriving on the Gaza side around 0800 GMT were forced back when soldiers fired over their heads.

Palestinian security officials said the Israelis reopened the crossing at 1100 GMT and gave no explanation for the hold-up. Israeli military sources said the terminal had remained officially open throughout and denied any shooting incidents.

Israel sealed the crossing on July 18, saying intelligence indicated militants wanted to blow it up from a tunnel to be burrowed underneath. They reopened it on August 6 without saying whether they had resolved the alleged security problem.




Today's Top News
Top World News

Museum remembers reform architect Deng Xiaoping




Tight control drags down growth pace




Document aids victims seeking redress




Central bank predicts rises in house prices




'One-China' essential to ties with PIF nations




Law drafted to end Hep B discrimination