China's home-grown rock'n'roll craves glory
By Cheng Yunjie & Qiu Zhao (Xinhua)
Updated: 2004-08-11 21:15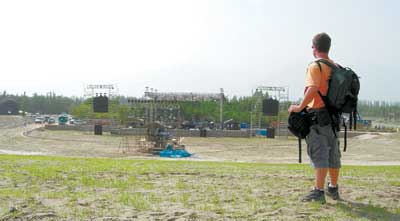 A lone pedestrian looks at the abuilding stage of the "Glorious Path of Chinese Rock'n'Roll" festival in Yinchuan. [newsphoto/file]


Twenty years after rock and roll entered China, the art form known for rebellion and idealism has reached its crossroad.

At the "Glorious Path of Chinese Rock and Roll" festival in the far western Ningxia Hui Autonomous Region, which closed on Monday, fans yearned for the passion they first acquired in 1980s when the form broke in as a symbol of freedom and a call for reform after China opened itself to the outside world.

"At that time, many youngsters felt the sudden influx of Western culture and started to question the country's realities. Rock and roll represented the puzzle, passion and dream of a whole new generation," said An Ya, a native Beijinger who traveled all the way from the national capital to Yinchuan in an attempt to relive her zealous college passion for the music.

There she saw Cui Jian, China's "rock and roll godfather," who swept the country with a song called "Penniless" in 1986. For a long time, young Chinese had little idea of what he was singing. People seemed more concerned about his car accident rumor started right before the festival than his new songs.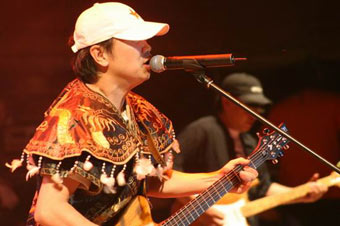 Cui Jian, dressed in archaized costume with a baseball cap, performs during the festival. [newsphoto/file]

"Cui Jian is more like a cultural symbol than a singer," said a concert-goer.

Over the past decades, Cui and the rest of the country's rock'n roll performers worked hard to raise their visibility, but with little success.

"To touch audiences, rock'n roll must get to reality. However, when you sing reality, contradictions occur and end up in compromises," Cui Jian acknowledged.

To reconcile their dreams to reality, the majority of rock'n roll singers could only perform in seedy night bars, with little chance to join mainstream singers in major art events, such as the annual evening party officially held on the eve of lunar Chinese new year.

One guess as to rock and roll's limited popular appeal, is that it's obstinate and unruly style was viewed as destructive and was not officially encouraged. Another hindrance is the lingering stereotype that rock and roll stars are connected with drugs or otherwise disordered lives.

Ding Wu, a rock'n roll star of 20 years, still often rides the bus to work. "Our pay is normally 30 times less than that of mainstream singers," he said.

At this festival, Ding and his band, Tang Dynasty, named after one of China's most thriving dynasties (618-907), debuted a song titled "Romantic Knight."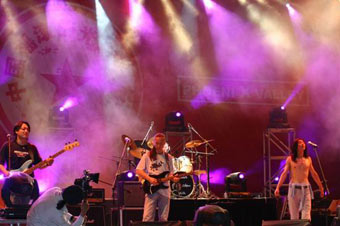 Rock'n'roll band Tang Dynasty perform their new song "Romantic Knight" at the festival. [Xinhua]


According to Ding, this song was dedicated to people of his father's age who witnessed and experienced the country's social development and sacrificed a lot to economic reforms.

Under the planned economy, these people now in their late 50s or 60s were called on to be selfless, to strive hard for the good of the people and of the communism. After the economic reform introduced in the late 1970s, they were taught to be competitive, innovative and courageous enough to show their individualism. But they had lost their youth already and had become helplessly out-of- date. Some were laid off; others were given early retirement.

Senior citizens, though, were not particular attracted to the exuberant rock and roll. This new song, compared with the band's works 20 years ago, sounds much milder.

"We just wanted to make a nice and appeasing song, not to let out emotion in a wild way," Ding said.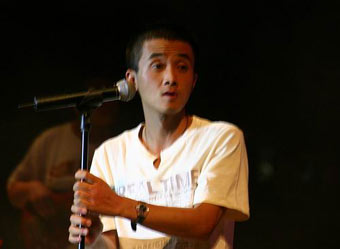 Rock'n'roll singer Zhang Chu is seen in a rehearsal for the festival. [Xinhua]


Many music critics agree the country's rock music had undergone drastic changes, but none of them could clearly predict its future. Given that China has become so diversified in culture and art, it' s hard to determine specific trends about the cultural pursuits of people and therefore still harder for rock singers to generate hit songs.

Eighteen bands participated in the unprecedented rock and roll festival. Several bands, including Second Rose, Sleepy and Curse, had never before played outside of bars.

Watching performances by vintage names such as Tang Dynasty, Dong Hongjun said, "They are behind the times."

In his 20s, Dong is the vocalist of Sleepy, a new-generation rock roll band active in Beijing's night clubs. Obsessed with the concepts of "ecstasy music" and "death rock" borrowed from abroad, Dong said the young generation strongly believed in "the wildest expression of feeling."

Shuttling from one bar to another, Dong and his band rake in four-to-five hundred yuan a day, about 40 to 50 US dollars. "It's much better than the average," he said.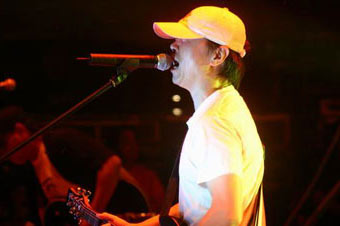 The festival ends in Cui Jian's finale. [newsphoto/file]


Despite disparity in rock and roll styles, a large number of performers, old or young, agreed that they were tempted to employ business savvy since financial health was the only way to secure them a decent life.

Currently, Tang Dynasty is in talks with a couple of big corporations to stage a tour across China. Although business involvement often twists artists' dreams and oblige them to cater to the tastes of others, Ding said, "Real life is full of compromises. We help them get affluent, they help us get heard."

A big innovation Tang Dynasty made at this festival was to incorporate the traditional Chinese instruments erhu and lute, which made the music sound a little classic to some and a little weird to others.

"The country's rock and roll has entered its best period. We feel the growing tolerance and interest across society," Ding said.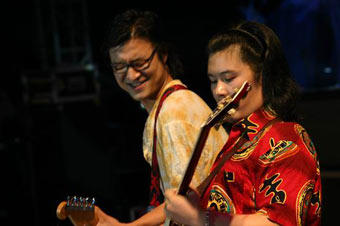 Rock'n'roll singer Wang Feng performs with his band. [newsphoto/file]


Festival initiator Huang Liaoyuan said that the largest ever rock festival had received solid support from local government and private businesses.

"This would have been impossible in the past," he said.




| | |
| --- | --- |
| | |
| Red fish headstrong | |

| | |
| --- | --- |
| | |
| Who killed the kittens? | |

| | |
| --- | --- |
| | |
| Cloned cats | |
Today's Top News
Top Life News

Museum remembers reform architect Deng Xiaoping




Tight control drags down growth pace




Document aids victims seeking redress




Central bank predicts rises in house prices




'One-China' essential to ties with PIF nations




Law drafted to end Hep B discrimination