Armed gangsters attack tourists, 2 injured
(chinadaily.com.cn)
Updated: 2004-08-11 16:02
Six armed men attacked a group of 50 tourists at the Beijing West Railway Station Tuesday morning, injuring two people, with one of them in critical condition.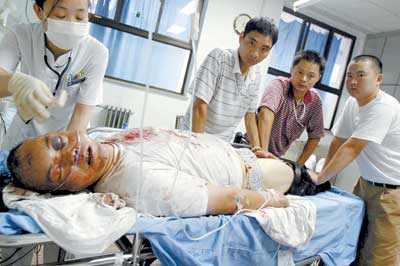 Han Kewei, a tourist from Chongqing, is seriously injured by armed gangsters during a attacking spree at the Beijing West Railway Station, Tuesday morning. [sohu.com]
The gangsters attacked the tourists with knives and iron sticks, said witnesses.
One tourists, identified as Han Kewei, was hit hard on the head by iron sticks. The other tourist suffered minor injuries on his back and arms. All the injured were sent to the Beijing Railway Hospital. Doctors said Han Kewei was still in critical conditions.
The 50 tourists were from southwest China's Chongqing municipality. They were on their way home after visiting Hohhot, North China's Inner Mongolia Autonomous Region. They arrived in Beijing Tuesday morning to transfer to a flight from Beijing to Chongqing.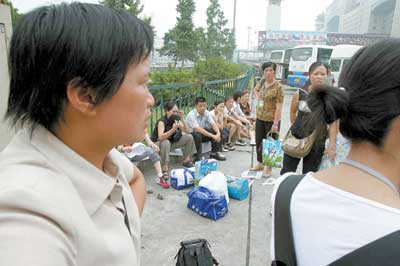 Tourists refuse to leave the site after being attacked by armed gangsters. [sohu.com]
Before the attack, the tourists quarrelled with a bus driver, who blamed them for blocking the way with their luggage.
"The bus driver shouted to us. We shouted back. Then he drove away, promising to seek revenge. After a while, he came back with six armed men in his minibus," said one of the visitors.
"We know nothing about the six attackers. All of them have accents of northeastern provinces," said one of the tourists. They fled away in a minibus after the attack, the tourist added.

Today's Top News
Top China News

Museum remembers reform architect Deng Xiaoping




Tight control drags down growth pace




Document aids victims seeking redress




Central bank predicts rises in house prices




'One-China' essential to ties with PIF nations




Law drafted to end Hep B discrimination