US killer mistress describes a web of lies
(Agencies)
Updated: 2004-08-11 08:44
The mistress of Scott Peterson, whose trial on charges of killing his wife and unborn son has captivated much of America, told a jury on Tuesday he seduced her with champagne and slow dancing just weeks before the murders.
Amber Frey also described a giddy Dec. 31, 2002 phone call from the fertilizer salesman, who told her he was celebrating New Year's in Paris -- when in fact he was heading to a candlelight vigil for his missing pregnant wife.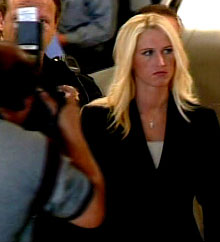 Amber Frey, Killer Peterson's former lover leaves court after testifying Tuesday, August 10, 2004.[AP]
One week earlier, prosecutors say, Peterson had already murdered his eight-months pregnant wife and dumped her weighted body into San Francisco Bay.
Prosecutors maintain it was Peterson's relationship with Frey, a massage therapist, that drove him to kill Laci. Frey's testimony was expected to be key to prosecutors' case against the 31-year-old fertilizer salesman from Modesto, California.
In her long-awaited testimony before a packed courtroom in Redwood City, California, Frey said Peterson assured her he was single as he wooed her with strawberries and champagne and sang karaoke.
She told the jury she was so comfortable with Peterson, who wore no wedding ring, that by the end of their first date they had sex in his hotel room.
"He reassured me that it was appropriate (to have sex) in light of the evening's events," Frey testified.
The Nov. 20, 2002, date occurred about five weeks before Peterson's pregnant wife disappeared. Peterson reported her missing on Christmas Eve of 2002, telling police she had vanished while he was out fishing in San Francisco Bay.
The bodies of Laci Peterson and the couple's unborn son washed out of the bay four months later. Scott Peterson could face the death penalty if he is convicted.
Frey recalled how Peterson brought them back to his hotel room early on in their first date so he could change his clothes. She said he deftly pulled out a bottle of champagne.
"He also pulled out a little box of strawberries for the champagne and put one in each of our glasses," Frey testified, glancing at her former lover across the courtroom. "I remember eating one. They were a little bit sour."
On another date, when they shared a bottle of wine, Frey testified that she wrote their initials on the cork as a memento.
He said there would be many more to come," Frey said, "Many more corks, many more bottles to share."
Frey started secretly recording her conversations with Peterson after she learned of his wife's suspicious disappearance.
On Dec. 31, Frey said, Peterson called her to joke about his New Year's holiday at the Eiffel Tower. He was actually on his way to a candlelight vigil for Laci, who had been missing for a week.
"It's pretty awesome," Peterson said, according to a transcript of the phone call. "Fireworks there at the Eiffel Tower. A mass of people all playing American pop songs ... It's really funny."
Today's Top News
Top World News

Tight control drags down growth pace




Museum remembers 'Great Man' Deng




Document aids victims seeking redress




Central bank predicts rises in house prices




'One-China' essential to ties with PIF nations




Law drafted to end Hep B discrimination