Australia beat China to win Diamond Ball basketball
(Xinhua)
Updated: 2004-08-09 06:09
WNBA star Lauren Jackson scored 24 points to help Australia beat China 74-70 in a thrilling final, winning FIBA Diamond Ball tournament Sunday evening.
"I was satisfied with my players especially in the third period," said Chinese head coach Gong Luming. "Their defense was good, but they were a little bit relaxed at the start of the last period."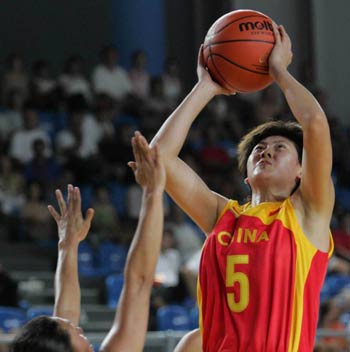 Bian Lan of China jumps to shoot in the final against Australia. China lost 74-70 to claim the second place of the tournament. [Xinhua]


With a 14-4 point run in the third period, China led Australia 55-53 and entered the last period 60-55.

However the Australian, headed by the MVP of last year's WNBA season Jackson, came back strongly with a 12-0 storm to take the lead again with 67-60 and seal the victory finally.

Jackson also contributed 13 rebounds for the Olympic defending bronze medalists, which were also joined by 2002 WNBA All-stars Penny Taylor, who added five points.

Center Chen Nan led the Chinese side with 17 points and eight rebounds, followed by Bian Lan 15 points and Miao Lijie 12.

"China is a very good team, they showed good teamwork and quick defense and attack," Australia head coach Janette Stirling said. "They can go out in the group of the Olympic games, and may go very far."

China is aiming to take third in the upcoming Olympics. But "it is very hard for us to realize that goal," Gong said.

Earlier on Sunday, Brazil edged hosts Greece 73-70 to take the third, while South Korea, led by Kim Yeong-ok with 24 points, beat Nigeria 89-78 for the fifth.

China beat Brazil to reach final

China hit back from an early deficit to beat Brazil 86-85 on Saturday and reach the final of the first-ever FIBA Women's Diamond Ball tournament.

The South Americans looked to be on their way to victory after scoring 29 first-quarter points for a 10-point lead but the Asian champions stormed back and levelled the game at 42-42 by half-time.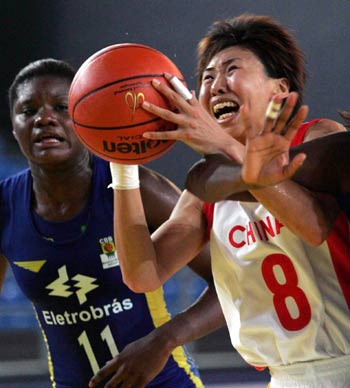 Miao Lijie of China attempts to shoot in the game. [Xinhua]


Brazil, who received game highs in points (19) and rebounds (13) from their star centre Alessandra, held a slim 61-60 advantage by the end of the third but they ultimately slipped to defeat.

Miao Lijie and Ye Li each had 14 points and Sui Feifei 11 for the winners.Both sides beat Nigeria in their previous tournament games.

In another game, Lauren Jackson fired Australia to another triumph on Saturday as the Opals continued their Olympic preparations in grand style.

The Aussies, behind Jackson's 24 points and 14 rebounds, broke open a close game in third quarter and claimed a 75-57 win over Greece.

Jan Stirling's team led 44-38 at half-time but over the next 10 minutes outscored the Olympic hosts 21-8 to take control of the contest for good.

Maria Samoroukova had 14 points and 13 rebounds in a losing cause.

China will face Australia in Sunday's championship game.




Today's Top News
Top Sports News

Shanghai: Sex bias exists in local job market




Gay men get fast HIV tests in Hangzhou




Prosecutor: Big graft cases increase




Experts divided over macro control measures




Militants kidnap Iranian diplomat in Iraq




76 Chinese rescued from deadly England tide