Iraq issues warrants for Chalabi, nephew
(Agencies)
Updated: 2004-08-09 08:31
Iraq has issued arrest warrants for Ahmad Chalabi, a former Governing Council member with strong U.S. ties, on counterfeiting charges, and for his nephew Salem Chalabi — head of the tribunal trying Saddam Hussein — on murder charges, Iraq's chief investigating judge said Sunday.
The warrant was the latest strike against Ahmad Chalabi in his removal from the centers of power. A longtime Iraqi exile opposition leader, he had been a favorite of many in the Pentagon but fell out with the Americans in the weeks before the U.S. occupation ended in June.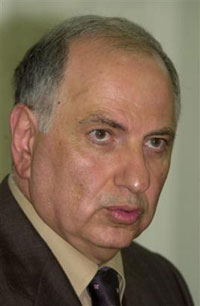 Iraqi opposition leader Ahmad Chalabi is seen in his first public appearance in Baghdad, in a Friday, April 18, 2003 photo. [AP/File]

Both men denied the charges, dismissing them as part of a political conspiracy against them and their family.

Salem Chalabi, named as a suspect in the June murder of Haithem Fadhil, director general of the finance ministry, called the accusation "ridiculous." His uncle said the charges were "outrageous" and "manufactured lies."

Ahmad Chalabi was somewhat marginalized when he was left out of the new interim government that took power June 28 but has since worked to reposition himself as a Shiite populist. At the helm of the war crimes tribunal for Saddam, the Ivy League-educated Salem Chalabi remains a central figure in Iraq.

"They should be arrested and then questioned and ... if there is enough evidence, they will be sent to trial," Judge Zuhair al-Maliky said.

In Washington, the Bush administration had no comment about the charges against the Chalabis. "This is a matter for the Iraqi authorities to resolve and they are taking steps to do so," White House spokeswoman Suzy DeFrancis.

The warrants, issued Saturday, accused Ahmad Chalabi of counterfeiting old Iraqi dinars, which were removed from circulation after the ouster of Saddam's regime last year.

Iraqi police backed by U.S. troops found counterfeit money along with old dinars during a raid on Chalabi's house in Baghdad in May, al-Maliky said. He apparently was mixing counterfeit and real money and changing them into new dinars on the street, the judge said.

The accusation is not Ahmad Chalabi's first brush with legal problems. He is wanted in Jordan for a 1991 conviction in absentia for fraud in a banking scandal. He was sentenced to 22 years in jail, but has denied all allegations.

The men were out of the country Sunday but promised to return to Iraq to face the allegations.

"I'm now mobilized on all fronts to rebuff all these charges," Ahmad Chalabi told CNN from Tehran, Iran, where he was attending an economic conference. "Nobody's above the law, and I submit to the law in Iraq ... despite my serious and grave reservations about this court."

"I don't think ... that I had anything to do with the charges so I'm not actually worried about it," Salem Chalabi told CNN from London. "It's a ridiculous charge, that I threatened somebody ... there's no proof there."

If convicted, Salem Chalabi, 41, could face the death penalty, which was restored by Iraqi officials on Sunday, al-Maliky said. His uncle, who is in his late 50s, would face a sentence determined by trial judges.

Born in Baghdad, the younger Chalabi studied at Yale, Columbia and Northwestern University and holds degrees in law and international affairs. He served as a legal adviser to the interim Iraqi Governing Council and was a member of the 10-member committee framing the basic transitional law for the new interim government.

But Ahmad Chalabi's star has steadily declined. He was once considered Washington's most likely choice for Iraqi president after Saddam's fall, but he was never popular in Iraq and ended up without a job in the new government.

A frequent guest on news talk shows in the United States, Ahmad Chalabi had significant, and controversial, influence on America's Iraq policy before the war. His network of Iraqi exiles in the Iraqi National Congress provided the Bush administration, and some news organizations, with reports on Saddam's purported weapons of mass destruction programs.

Those weapons were cited by the United States and Britain as the primary justification for the Iraq war. When no significant weapons stocks were found, Chalabi became a liability. He has continued to insist that the weapons exist.

Chalabi also was accused recently of informing Iran that the United States had broken its secret intelligence codes, a charge he branded as "stupid." And around the time of the raid on his house, U.S. officials privately complained that Chalabi was interfering with a U.S. inquiry into money skimmed from the U.N. oil-for-food program by pursuing his own probe.

As relations with his American backers soured, he has tried use the fallout to enhance his stature among Iraqis, many of whom saw him as an American puppet.

"I've risen higher in the esteem of my people and I'm now much better positioned politically in the country, because I'm in sympathy with my people. This is what it is all about," Chalabi said Sunday.

Among his campaigns to win favor with Iraqis have been purging Baath party members from the Iraqi government and attempting to set up an exclusively Shiite political party. He recently played peacemaker in ending violence in the Shiite holy city of Najaf in June.




Today's Top News
Top World News

Shanghai: Sex bias exists in local job market




Gay men get fast HIV tests in Hangzhou




Prosecutor: Big graft cases increase




Experts divided over macro control measures




Militants kidnap Iranian diplomat in Iraq




76 Chinese rescued from deadly England tide