Japan defeats China in Asian Cup final
(Xinhua)
Updated: 2004-08-08 09:05
Japan succeeded in defense of their Asian Cup title as they beat host China 3-1 in the final on Saturday.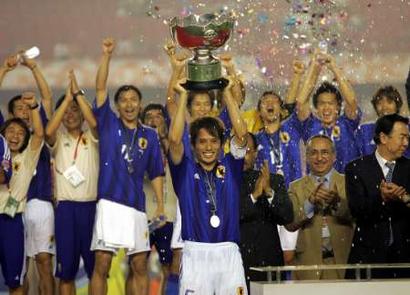 Japan's captain Tsuneyasu Miyamoto raises the Asian Cup trophy in front of teammates as they celebrate their win over China in the final of the Asian Cup, in Beijing, August 7, 2004. Japan beat bitter rivals China 3-1 to win the Asian Cup for the third time Saturday. The Japanese also won the Asian Cup in 1992 and 2000.
Forward Keiji Tamada wrapped up the win for Japan in the injury time with a solo-run goal after he beat China's offside traps. The goal quashed China's all attempts to drag Japan into extra-time and their hope to win their first ever major title was dashed.
China's head coach Arie Haan, apparently in a low spirit, found himself hard to accept the way his team lost the game.
"I don't want to comment much about the game. My players are not as experienced as the Japanese players. The Japanese players were more clever when body contacts happened. I am happy with my players' performance, But I am disappointed at the way we lost," the Dutchman said.
Japan's head coach Zico, in a sharp contrast to Hann, was pleased with his team's job done.
"From the start to the end, my players maintained a steady mental and technical performance, especially in the second half, I am very happy we can win the champion," he said.
"As all the fans support our opponents from the first to the last day, especially in this game before the home crowd, my players played under huge pressure. The Japanese players used to underperform when playing away. Now I think they have overcome this problem." said Zico.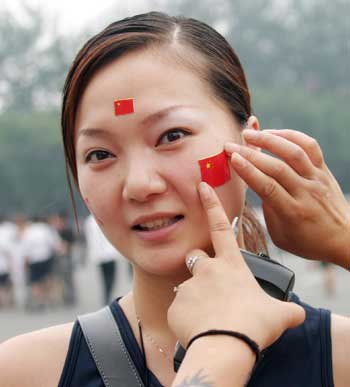 A woman football fan has a Chinese mini national flag pasted on her face before the Asian Cup final between China and Japan in Beijing August 7, 2004. [newsphoto]
Given some good players, due to injury, club commitment or the preparation for the Olympic gams, missed this team, this win is a complete one for Japan." he added.
The Brazilian soccer legend praised the losers too. "China is a very good team, it is an unarguable fact that they made it to the finals. I have to say that they have made a lot of progress," he added.
Japan drew the first blood in the 24th minute as Midfielder Takashi Fukunishi headed in a pass from teammate Takayuki Suzuki after their talisman Shunsuke Nakamura's freekick left China's defense in disorder.
Japan's lead lasted only eight minutes before veteran midfielder Li Ming pulled it even for China as he hit in a well-placed feed from Yan Song who charged down from the left flank.
Japan sealed the game on a highly controversial 65th minute goal with replays showing Koji Nakata clearly scooped the ball into the net with his hand after latching onto a Shunsuje Nakamura corner.
China loudly appealed the decision but Kuwaiti referee Saad Kameel stood firm.
Keiji Tamada, though, rubbed salt into Chinese wounds one minute into second half injury time when he dribbled past keeper Liu Yunfei to make certain of victory.
China, craving for their first ever major title to save China's soccer league stranded in the scandal of corrupt referees and fixed games, showed more determination, but the Japanese side was apparently more superior in skill.
The defending Champions, playing with a compact 3-5-2 formation,pushed hard to threaten China's defense constantly. But China's counter attack, once they penetrated Japan's five-man midfield, looked more dangerous.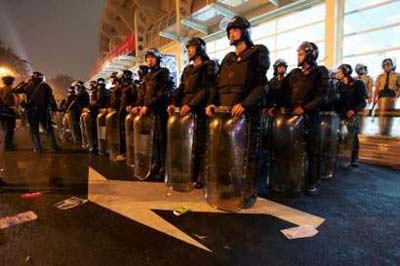 Chinese riot police stand guard at the Workers' Stadium near the end of the Asian Cup soccer final in Beijing, August 7, 2004. Japan beat hosts China 3-1 in the Asian Cup final Saturday. [Reuters]
China's ever-green strike Hao Haidong, who had his injured head bandaged, nearly found the net in the 45th minute when he missed a pass from midfielder Zhao Junzhe near the goalline.
The veteran striker, who will turn 34 later this month, was substituted by Li Yi in the 58th minute. But Li nearly did nothing but missed several chances before a sold-out home crowd.
It assumed political connotations when senior leaders from both sides stepped into the fray and security at the game was ultra tight with at least 6,000 police on duty, some in riot gear and with dogs.
Today's Top News
Top Sports News

"Hand of Koji" brings Japan lucky third title




UN offers to help end fighting in Iraq




76 Chinese rescued from deadly England tide




US man fakes own decapitation in video




Mall fire forces 2,000 people to flee




Chinese Olympians leave for Athens