Asian Cup final hot in Beijing
(newsphoto)
Updated: 2004-08-07 17:07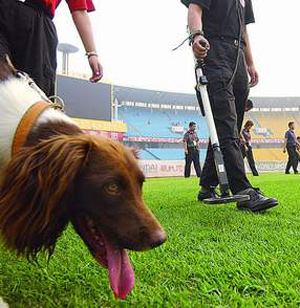 Beijing police run police dogs to check the safety of the Worker's Stadium soccer pitch in preparation for the August 7 Asian Cup final between China and Japan. [sohu]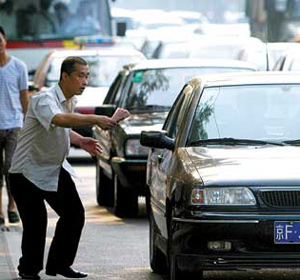 A man peddles the entrance tickets for the Asian Cup final on a street near the Worker's Stadium August 7. [sohu]
Amid heavy security in Beijing, host China and defending champion Japan readied Saturday for their showdown in the final of the Asian Cup, the continent's most important soccer championship.
More than 5,000 police and soldiers are expected to be on hand at Worker's Stadium in the heart of Beijing.
Fans from across China, some of them in traditional Chinese robes and other elaborate costumes, began gathering at the stadium gates by midmorning, hours before the 8 am. Most said the security fears were overblown.
"There won't be any trouble because Chinese aren't like that. We don't have soccer hooligans like in Europe," said Zhang Zhengjie a Beijing office worker, who like many was seeking a ticket to the sold-out game.
"It will be a good party tomorrow. Everybody has to enjoy _ that's the reason we go to soccer," said Haan, a Dutchman who has led China's national team for the past two years.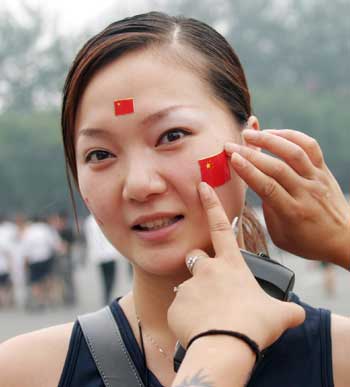 A woman football fan has a Chinese mini national flag pasted on her face before the Asian Cup final between China and Japan in Beijing August 7, 2004. [newsphoto]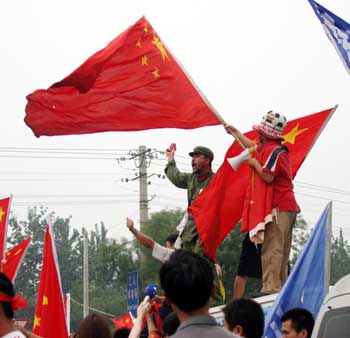 Football fans wave the Chinese national flags before the Asian Cup final between China and Japan in the Workers' Stadium in Beijing August 7, 2004. [newsphoto]