Snake charmers' mystique fades
(Agencies)
Updated: 2004-08-07 08:59
Every morning, 45-year-old Aryanath leaves home with his "been," or traditional Indian flute, and two cane baskets that carry a cobra and an earth boa.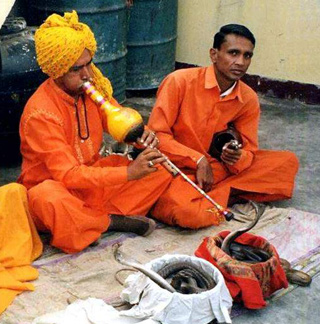 A stereotypical tourist attraction in India is the snake charmers who eke out a megre living on city sidewalk. [DPA]

He plays the been, which is made from a dried bottle gourd plant, in a crowded market. When the gathering is large or curious enough he whisks off the lids and the snakes sway up, almost dancing to his rhythm.

Aryanath earns 75 rupees (US$1.7) a day, which is more than the minimum wage rate in most Indian states.

He usually carries a battered briefcase, adorned with frayed, colourful posters of Hindu gods and goddesses, filled with herbal powders and ointments made from dried herbs, roots and animal parts.

Aryanath belongs to the Jogi-Nath Sapera, or snake charmers' community of north India, where trapping deadly snakes has been practised for generations.

The Indian snake charmer is a stereotype, a tourism promotion, a mystical photograph in a coffee table book. He is also a man struggling to survive in the face of stringent animal conservation laws that make his profession illegal.

The reptiles are inextricably intertwined with the Saperas' lives, from the antidotes they make for snakebites to the snakes they gift during weddings. Their catching skills ensure an exalted position in society, with many Saperas considered as gods.

While the Wildlife Protection Act of 1972 bans the catching of snakes, the practice thrives. Saperas trap more than 400,000 snakes a year, which eventually die.

The law aimed to stop the international trade in reptile and cat skins, ivory, and live birds and mammals. Conservationists say before the act came into being about 10 million snakes were killed every year for their skin.

The Saperas do not sell snake skins. They trap eight species, including the rat snake, king cobra and python.

V.K. Bahuguna, inspector general of forests, said when the law was framed it ignored the livelihood issue of traditional communities. A project by the Wildlife Trust of India (WTI) - a leading conservation organization - attempts to provide Saperas with alternate livelihoods and ensure the welfare of snakes.

Revered and reviled, snakes have a special place in Indian tradition. During the snake festival of Nag Panchimi in July-August, cobras are trapped, worshipped, fed with rats and milk and eventually set free.

Banwarinath Sapera said there were about 1 million of them in north India alone. The men travel in groups often for three months at a stretch. They wear saffron, their heads anointed by turbans in blazing orange, fiery red or shimmering pink.

The catching is only done by men, who remove the snake's poisonous fangs. A survey conducted by WTI found most captive snakes to be in poor health, with mouth infections from the venom removal.

When the snakes grow weak they are quickly released in the wild, a WTI report said. A dead snake is a bad omen and invites a hefty monetary fine from the village council. Without its fangs the reptile is unlikely to survive in the wild.

Conservationist Bahar Dutt, who worked with Saperas for three years, said: "Some look after their snakes well, some do not. My study did not attempt to portray a romantic picture of the community. There are serious animal welfare concerns as well as poverty issues involved."

Dutt visited remote snake charmers' villages to earn the trust of a suspicious community plagued by alcoholism and drug abuse. They rarely venture into larger cities because of the fear of being caught by animal inspectors.

In a study of 537 Saperas, Dutt found that despite a 30-year-old ban on snake catching, most were still entirely dependent on snakes for their livelihood.

The older Saperas insist the strict laws have pushed them into poverty, some even beg for a living. The youth say the charm of the trade is lost.

"We have to learn it because it is passed down from our forefathers, but snake charming is of no use to me today," said Jeethnath, 23.

Others say there is too much competition from radio and television. Some admitted they were embarrassed to follow an "archaic" occupation - they would rather study, work in the city, and get government jobs.

Many Saperas have formed "been parties" or music bands of seven. During the wedding season each Sapera can earn nearly 3,000 rupees (US$66) per month.

Their vast knowledge of herbal medicines has also transformed them into barefoot village doctors, critical in rural India where the public health system is almost non-existent. They treat skin infections, gastric and menstrual problems, asthma and paralysis.

In India about 15,000 to 20,000 people die every year from snake bites. Herpetologist Romulus Whitaker said: "Statistics indicate that you are twice as likely to die of rabies in India than by snakebite. To me that's very scary."

"But a snakebite is also a traumatic experience that many people in the villages think more about it than about other diseases. It is still surrounded by mystery and is frequently associated with gods and devils."

Conservationist Dutt said the Sapera's knowledge could be used to educate people. "I have planned something like a dial-a-snakecharmer-service. People are constantly calling Saperas to remove snakes from their homes, gardens and fields. They can be paid a small fee for this. "They are currently paid between 50 to 500 rupees (US$1.1-11) depending on how much effort went into catching the snake.

Elderly Shish Nath Sapera is reluctant to let go of his snakes. "India is famous for two things - its royalty and its snake charmers. That is what attracts the foreign tourists. Let us keep our snakes to entertain them."





| | |
| --- | --- |
| | |
| The 59th anniversary of the Hiroshima bombing | |

| | |
| --- | --- |
| | |
| Singer Wang Feng to give Beijing solo September | |

| | |
| --- | --- |
| | |
| Lee-Hom Wang to sing solo in Beijing | |
Today's Top News
Top Life News

Global aid sought to check Taipei separatists




Drill tests Sino-Pakistani forces




Mapping of fatalities forecasts death trends




Teachers needed for surging college students




Asian Cup finals fever hits capital




Cultural expo touts industry