A grocery store owner was sentenced Thursday to eight years' imprisonment for selling fake milk powder in the trial surrounding the death of 12 infants from drinking the fake formula.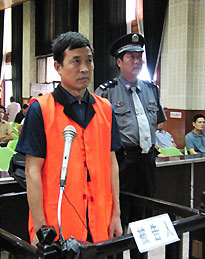 Li Xindao, the store owner, listens to the verdict Thursday at a court in Fuyang, Eastern China's Anhui Province. [newsphoto]

Li Xindao, the store owner in Linquan County under Fuyang of East China's Anhui Province, is the first person tried among the several suspects involved in the fake formula case.

Li was accused of selling milk powder which he should have known to be fake because of the unusually low price.

An infant has died of serious malnutrition after consuming the inferior milk powder Li sold last year.

In all, 189 infants suffered from malnutrition in various cases of fake milk powder being sold across China.

Li's lawyer insisted that Li had no idea of the milk powder's quality when selling the goods.

The court sentenced Li to eight years in prison and a penalty of 1,000 yuan (US$120.5) for committing the crime of selling foodstuff not up to hygiene standards.

The defendant said he would appeal the verdict.

The inferior milk powder scandal has stirred a nationwide uproar and Premier Wen Jiabao gave an immediate order in late April to launch a thorough investigation into the cases in the city of Fuyang and in other areas.

Forty-seven people were detained in May, among whom 40 were arrested on charges of producing and marketing fake milk powder.