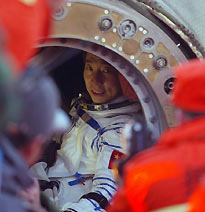 Yang Liwei [newsphoto/file]

Topping the poll for "Favourite Youth Idol" Thursday were Yang Liwei, who piloted the first manned spacecraft Shenzhou-V; Yao Ming, Chinese NBA player; 32-year-old Ding Lei, head of NetEase Inc; Deng Yaping, the former table tennis Olympic champion and Wu Xiaoli, the famous Hong Kong host.

As a major part of the First China Youth Culture Week, "My Favourite Youth Idol" was organized by the Ministry of Culture, the provincial and municipal governments of Guangdong and Shenzhen, and the Hong Kong Home Affairs Department.

Organizers said the poll was conducted at key Internet websites in China including sina.com, 21cn.com and southcn.com from July 21 to 30.

Almost 12 million Internet visitors have browsed the voting websites with 78.2 per cent visitors from domestic and 21.8 per cent from overseas.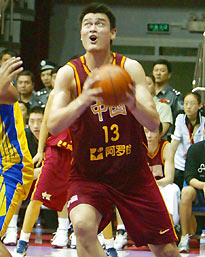 Yao Ming [newsphoto/file]

Liu Kewei, director of the coming events, said: "It is a common phenomenon that the adolescents worship stars. But what kind of stars they adore and who should become youth idols is what matters. And now, the poll reflecting who the adolescents favour can help us to understand better and guide the youth on the issue."

It seems that the new generation focuses on what their idols contribute to society, as well as being worshippers of pop singers, movie stars and sports stars.

Andy Lau, the renowned Hong Kong actor who was nominated, was left 48,000 votes behind Yang Liwei.

Zhang Chunsheng, acting deputy director of the organizing committee of the "First China Youth Culture Week," told a press conference they were also surprised when the results came in.

"For instance, Deng Yaping, who is not only a sports champion and has a master's degree from Nottingham University in the UK, she is also now working with the marketing department of the Beijing Organizing Committee for the 2008 Olympic Games. "She is a good example for youth to follow," Zhang added.

After the votes, nearly ten thousand youths from around China are expected to gather in Shenzhen to attend "The first China Youth Culture Week" starting tomorrow.

"The five-day event will serve as a platform for Chinese youth to show off their talent and the culture of different ethnic and minority groups. The aim is to improve communication and understanding between youths," Said Liu.

More than 3,000 Hong Kong youths will represent Hong Kong in the cultural programmes and performances.

Dance and musical performances, art exhibitions, film festivals and a series of forums have highlighted the youth festival.