Kindergarten attack victims recovering
(Xinhua)
Updated: 2004-08-05 23:50
The 14 injured children and three teachers in kindergarten's bloody attack are now stabilized and out of danger, officials at the No 1 Hospital affiliated with Peking University said Thursday.
The mother's and infant's section of the hospital, which had been sealed by security guards on Wednesday, was reopened to the public Thursday.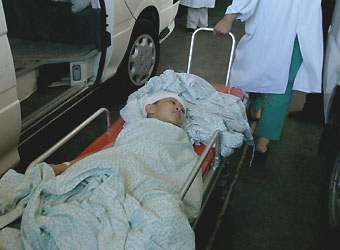 An injured boy is escorted to a hospital after a kindergarten gatekeeper stabbed 18 children and three teachers in a kindergarten Wednesday morning in Beijing. A child died later due to serious injuries. The man was arrested and alleged to have a history of mental illness. [newsphoto]

Since most of the children's wounds were to their heads and necks, they are still being cared for in the special wards out of fear of infection, said a hospital official.

A knife-wielding gatekeeper at a kindergarten at the hospital slashed 15 young children with a kitchen knife on Wednesday morning, killing one child and injuring three teachers before he was subdued by police.

Officials said Thursday the dead child was a four-year old boy. A two-year-old is the youngest victim and the oldest is about six.

"It is not only physical pain," said Hong Baose, a psychological expert specializing in children at the Beijing Tongren Hospital. "It is a great mental anguish to young innocent children, too."

She said parents of the children holding up well and exhibiting "good psychology" can greatly reduce the negative impacts of the tragedy on the children.

If the parents become depressed, the children will naturally exhibit emotional problems or vice versa.

"Do not show any fear or anxiety in front of the children," Hong advised. The parents and the kindergarten teachers have to be confident, or at least pretend to be capable of handling the situation, she said.

Some children may have strong responses to the incident, like sleeplessness, which is quite natural.

She counseled being careful and not letting the feelings of the children affect others, she said.

"Distract their attention if the children are found talking about the incident with each other," Hong added.

Though a witness to the grisly attack said he was surprised that the injured children were not crying when they were being readied for transport to hospital, Hong said it was a natural response for human beings in great shock.

Hong said she hopes the parents, the friends and neighbourhood residents of the injured kids try their best not to talk about the incident when the victims are around.

"Proper guidance will help them to forget the terrible scene gradually," she added.

The suspect, Xu Heping, 52, is now in police custody.

Though he had a medical record of mental disease before the slashing, it may not mean he will escape criminal liability for his actions, said a law expert.

Zhang Wen, a law professor at Peking University, said a judicatory mental check-up is needed as soon as possible.

"If the suspect wants to plead not guilty by reason of insanity, the check-up result must show that he was so mentally ill during the crime that it prevented him from understanding the nature and quality or wrongfulness of his conduct, " Zhang said.

If judges are convinced Xu was insane, he added, Xu would be sent to a special hospital to receive medical treatment and supervision.

But if the check-up showed no signs of Xu being delusional or insane within hours of his crime, he would be tried to face charges and a just penalty, if convicted.

There would be no special possibility of commutation just because of his mental disease history, Zhang said.

Xu had been working as a temporary gatekeeper in the kindergarten for two years. He was introduced to officials there by his wife, who also works at the hospital.

He had received treatment for four months in 1999 at another hospital and was diagnosed as a schizophrenic.




Today's Top News
Top China News

Farmers reap macro policy rewards




Shopkeeper punished for fake milk powder




Japan urged to pay weapons compensation




Unsafe injections kill 390,000 prematurely




Parliament exchange pushes Sino-US ties




Kindergarten attack victims recovering