WTO deals new blow to 'big power' farm subsidies
(Agencies)
Updated: 2004-08-05 10:07
Brazil, Australia and Thailand won a clear victory against the European Union on Wednesday in a row over sugar subsidies that could have a big impact on world farm trade talks, Brazilian officials said.
Brazil celebrated the preliminary decision by the World Trade Organization, saying it should reduce Europe's sugar exports, after the complaint brought by the three countries against the EU's sugar policies.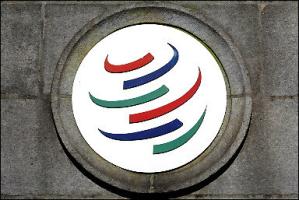 Logo of the World Trade Organization (WTO) in Geneva. US farm and business groups gave a mainly positive reaction to the weekend WTO deal that kept global trade talks from collapsing with a plan to cut agricultural subsidies. [AFP/File]


"This decision has given another important step in the elimination of distortions in international agricultural product markets," Brazilian Foreign Minister Celso Amorim said in a statement, where he expressed "great satisfaction."

Brazilian Agriculture Minister Roberto Rodrigues said the ruling would force the EU to cease exporting two million tons of sugar starting 2005 while Brazil would export 10 percent more. Brazil is the world's largest sugar producer and exporter.

"Brazil has won on pretty much all counts," said a source with knowledge of the case.

In Brussels, EU Commission spokeswoman Arancha Gonzalez declined comment and said WTO rules barred public reaction to confidential rulings. "We will now carefully study the interim report as well as our options in this dispute," she said.

Development agency Oxfam called it "a triumph for developing countries and a death knell for unfair EU sugar export subsidies."

American Sugar Alliance chief economist Jack Roney welcomed the ruling, but said Brazil was guilty of subsidizing sugar through three decades of government support for ethanol.

"We're not going to do a lot to restore health to the world sugar market ... if we're just focusing on (the EU). We've got to get everybody at the table and that includes Brazil, which is by far the world's largest sugar exporter and has the most pernicious effect on the world market," he said.

This is the second time in recent months that Brazil has won a case against a major power's farm subsidies.

In April, the WTO told Washington to halt much of the aid it gives its estimated 25,000 cotton farmers, ruling it illegal, sources close to the case said. That ruling has not yet been made public.

RULES BROKEN

"The (WTO arbitration) panels are showing that not only are the (WTO) rules fragile but even more than that, they are not being complied with by the big subsidizers," said Clodoaldo Hugueney, Brazil's top WTO negotiator.

WTO states agreed over the weekend, after marathon talks, to push ahead with detailed negotiations on slashing farm subsidies and eventually eliminating all direct aid to exporters. But it could be years before any deal is concluded under the WTO's Doha Round of free trade negotiations.

Hugueney said the verdict raised chances of a sweeping overhaul of current WTO rules on the estimated 90 billion euros ($108 billion) in domestic subsidies given to European farmers, and nearly $40 billion given to U.S. farmers.

Brussels says its sugar policy is legal and has warned that a ruling against it could hurt poorer developing countries, notably in Africa and the Caribbean, who also benefit from its subsidy system.

The bloc has already announced plans to overhaul its expensive 35-year-old sugar regime to cut prices and reduce output, starting in July 2005. The plan has run into opposition from some of the bloc's 25 member states, including its top sugar producer France, who says that it could lead to thousands of job losses.

Brazil, Australia and Thailand argued that the EU, one of the world's largest exporters, broke WTO farm rules by exceeding limits on export subsidies laid down under the trade body's 1994 Agreement on Agriculture.

Wednesday's decision by a panel of WTO trade judges is a preliminary one. A final ruling should be released in September after both sides have had time to comment, although final WTO rulings almost never differ from initial ones.

With either side able to appeal, it could be another year before any decision takes effect.




Today's Top News
Top World News

Old industrial base creating more jobs




US urged to honour promise on Taiwan




Striking cabbies back to work in Yinchuan




Airlines deal with delay dilemma




Macao gets green light for RMB services




Schoolyard stabbing kills child, injures 18