HK, Guangdong explore joint projects
By Li Wenfang (China Daily)
Updated: 2004-08-04 22:43
The governments of Guangdong and Hong Kong agreed to strengthen co-operation in 14 key areas and to set up three more expert groups for greater common development at a high-profile joint conference Wednesday.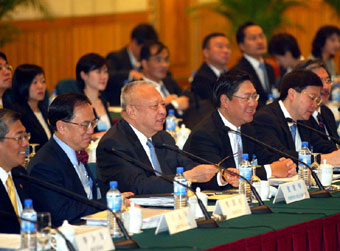 Chief Executive Tung Chee-hwa (C) and other top officials of Hong Kong at Wednesday's joint conference with Guangdong Province in Guangzhou. [newsphoto]


Officials from the two sides to the one-day seventh plenary of the Hong Kong/Guangdong Co-operation Joint Conference held in Guangzhou, capital of Guangdong Province, also hailed the fruitful co-operation since the joint meeting last August.

Wednesday's conference was presided over by Huang Huahua, Governor of Guangdong, and Tung Chee-hwa, Chief Executive of Hong Kong Special Administrative Region (SAR), with the direction of Chen Zuo'er, deputy director of the Hong Kong and Macao Affairs Office of the State Council and Zheng Kunsheng, deputy director of the Liaison Office of the Central People's Government in Hong Kong.

The 14 key areas included pan-Pearl River Delta (PRD) regional co-operation, the expansion of Hong Kong-invested firms in Guangdong, service industries, the development and stock listing of Guangdong firms in Hong Kong, joint promotion of Greater PRD, and civil servants exchange.

They also covered co-operation in tourism, urban planning, cross-border control points, education, and ways to solve anti-dumping charges from overseas.

Pan-PRD involves nine mainland provinces, Hong Kong and Macao and Greater PRD covers Guangdong, Hong Kong and Macao.

The 14 co-operative areas include seven identified at last year's joint meeting, which feature longer-term co-operation, said Huang Huahua at a press conference.

The three new expert groups are for pan-PRD co-operation, urban planning and civil servants exchange, bringing the number of such groups under the two-side co-operative mechanism to 18.

In the co-operation in cross-border control points, for example, the two sides agreed in principle that customs facilities for the two sides at the bridge-and-road project being built to connect western Hong Kong and Shenzhen will be co-located and provide 24-hour customs clearance services.

The two sides agreed that the prospect of bilateral co-operation was enormous, with opportunities arising from the anticipated free-trade area involving China and the Association of Southeast Asian Nations, the implementation of the mainland-Hong Kong free-trade pact known as CEPA and pan-PRD co-operation.

They decided to push forward co-operation under the goal set at last year's meeting to turn the Greater PRD region into one of the most prosperous and vibrant economic centres of the world.

Describing the benefits from two-side co-operation as mutually-beneficial, Tung Chee-hwa said such co-operation had brought about a positive and active impact on a strong recovery of Hong Kong's economy.

With CEPA (Closer Economic Partnership Arrangement) having helped boost tourism and trade in Hong Kong, more liberalization measures under CEPA are being negotiated, Tung said.

"We have had an excellent partnership (with Guangdong) and I have full confidence in the future," he said.




Today's Top News
Top China News

US urged to honour promise on Taiwan




Old industrial base creating more jobs




HK, Guangdong explore joint projects




University chiefs converge in Beijing




Schoolyard stabbing kills child, injures 18




Environmentalists work to stem 'red tide'