University chiefs converge in Beijing
By Cui Ning (China Daily)
Updated: 2004-08-04 22:43
Further developing education in rural areas and improving university faculty are the major priorities facing the country's educational sector in the next few years, Education Minister Zhou Ji said at the Chinese-Foreign University Presidents Forum which opened Wednesday in Beijing.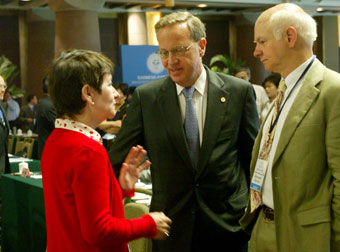 Alison Richard (first left), president of Cambridge University of Britain, Richard C Levin (centre), president of Yale University of the United States, and Howard Davies, director of the London School of Economics and Political Science, chat Wednesday at the opening ceremony of the Chinese-Foreign University Presidents' Forum that opened Wednesday in Beijing. [newsphoto]

Rural education will be particularly focused on the central and western areas where education is relatively backward, Zhou said to the nearly 160 Chinese and foreign university presidents attending the event.

The forum, centred on the theme of college development, academic research and commercialization of research findings, will last till next Tuesday.

The Chinese Government has stepped up its efforts to revitalize the nation through science, education and talents. In his Government Work Report this March, Premier Wen Jiabao said his cabinet has placed education at a paramount position.

Zhou said this has further created a favourable climate for upgrading the country's future educational development.

State Councillor Chen Zhili said education will follow the country's long-term opening-up policy.

"We advocate both governmental and non-official, bilateral and multilateral co-operations with other countries,'' she said.

China's universities need to make additional efforts to upgrade technological innovation, and work hard to draw experiences from prestigious universities from abroad, Chen said.

During the week-long forum, presidents of Peking University, Yale University of the United States, Cambridge University of Britain, and heads of other Chinese and foreign universities will deliver speeches on major issues facing colleges.

Xu Zhihong, president of Peking University, will give a speech today on development strategy and the efforts to build Peking University into a world-class institution.

Peking University is determined to further improve teaching competence through high-level scientific research, and enhance its innovative capacities by teamwork.

In an interview with China Daily, Zhong Binglin, president of Beijing Normal University, said forum participants will also discuss the hot topic of how to better sustain the educational sector,which is quite different from industrial and business operations.

He said in order to better equip professors with modern educational concepts, educators in his university must finish two-year study of pedagogy before they take teaching jobs.




Today's Top News
Top China News

US urged to honour promise on Taiwan




Old industrial base creating more jobs




HK, Guangdong explore joint projects




University chiefs converge in Beijing




Schoolyard stabbing kills child, injures 18




Environmentalists work to stem 'red tide'