Insurgents in Iraq kill 7 Iraqis, 4 US troops
(Agenices)
Updated: 2004-08-04 00:46
Insurgents launched a fresh wave of attacks in Iraq, killing six Iraqi national guardsmen in a suicide car bombing and four U.S. soldiers in separate incidents in Baghdad and the volatile west of the country.
A roadside bomb Tuesday also killed a local police chief in Baghdad, just hours before interim Prime Minister Iyad Allawi was due to return home after trying to win support from neighboring countries to stabilize Iraq.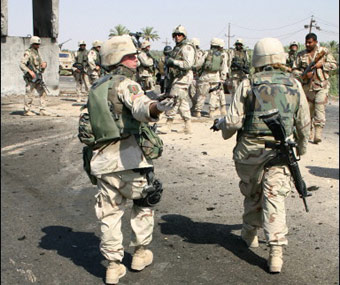 Two US soldiers carry human remains as Iraqi National Guardsmen and US troops inspect the site of a suicide bomb attack at a checkpoint on the northern road heading to the city of Baquba. [AFP]

The suicide car bomb blast at a checkpoint outside the town of Baquba wounded six other Iraqi guardsmen, said National Guard Lieutenant Mohamed al-Dulaimi at the scene.

Major Deborah Stewart of the U.S. 1st Infantry Division said the wounded had been evacuated to a nearby hospital.

Baquba, 40 miles north of Baghdad, has been the scene of numerous insurgent strikes in recent months, including a suicide car bomb last week that killed 70 people, many of them young men lining up to join the police force.

The U.S. military said two American soldiers were killed in a roadside bomb blast overnight on Baghdad's western outskirts.

And two U.S. marines were killed in action in the violent Anbar province in the country's west. One died on Monday from wounds and the other Tuesday, the U.S. military said.

The four deaths raise to 681 the number of American troops killed in action since the start of the war to oust Saddam Hussein in March last year.

Besides attacking U.S. soldiers, insurgents often target Iraq's fledgling security forces, accusing them of collaborating with some 160,000 foreign troops in the country.

They have also assassinated a number of senior officials as part of efforts to destabilize Allawi's government, which took over from U.S.-led occupiers on June 28.

Early Tuesday, a roadside bomb in Baghdad's upscale Mansour district killed the head of a local police station and wounded two of his bodyguards, police said.

The bomb exploded as Colonel Moayad Mahmoud Bashar, chief of the Mamoun police station, was driving past.

Allawi has spent the past 10 days visiting Iraq's Arab partners to shore up support for his government and seek help in stemming an insurgency that has disrupted reconstruction.

He especially sought to get Iraq's neighbors, including Syria, to tighten border controls to stop foreign Islamic fighters from crossing over to join the insurgency.

A government official said Allawi would arrive back on Tuesday afternoon.

One of his most pressing security challenges is a spiraling hostage crisis, which has forced the Philippines to withdraw troops and at least two foreign firms to pull out of Iraq.

TRUCKERS STILL HELD

Talks to free seven foreign truck drivers threatened with execution have stalled since Monday, mediators said. The three Indians, three Kenyans and an Egyptian were seized last month.

A tribal sheik trying to win their release said on Tuesday he was waiting to hear from the kidnappers, who have demanded their Kuwaiti employer leave Iraq and compensate families who suffered in U.S. air strikes on the rebellious city of Falluja.

"Negotiations are still stopped at the moment. I have no idea on the fate of the hostages," Hisham al-Dulaymi said.

There has been a surge in kidnappings since Manila pulled its troops out last month to save the life of a Filipino driver.

Some of the kidnappings have been carried out by groups linked to al Qaeda ally Abu Musab al-Zarqawi, who has claimed responsibility for some of the biggest suicide attacks in Iraq and the killing of several foreign hostages.

Islamist Web Sites Monday showed militants loyal to Zarqawi shooting dead a Turkish captive. In response to the killing and a wave of kidnappings of Turkish drivers, a Turkish truckers' group said it would stop transporting goods to U.S. forces.

Al Jazeera television said Monday a Somali held by militants linked to Zarqawi would be freed after his Kuwaiti employer agreed to halt operations in Iraq. However, there has been no word on his fate since.

Scores of hostages from two dozen countries have been seized in the last four months. Most have been freed but several have been executed -- at least four by beheading.




Today's Top News
Top World News

Measures go online to protect surfers




East-west gas pipeline wrapped up




Toxic bombs confirmed as Japan's ammo




Medical team heads for Tibet




Youths mark APEC science festival




Pilot stores for Olympic products to start