John Kerry: Bush policies encourage terrorism
(Agencies)
Updated: 2004-08-03 10:42
Democratic candidate John Kerry on Monday accused President Bush of encouraging terrorist recruitment with policies that have made the world angry at the United States, a criticism that Bush dismissed as a "ridiculous notion."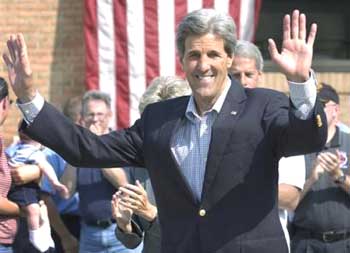 Democratic presidential nominee Sen. John Kerry, D-Mass., arrives at a fire station while campaigning in Grand Rapids, Mich. on Monday, Aug. 2, 2004. Kerry on Monday faulted the Bush administration's response to the terrorist threat but dismissed suggestions that raising the terror alert was politically motivated. [AP]

On the day that Bush announced he would create a national intelligence czar and counterterrorism center to help prevent another terrorist attack, Kerry said the self-described "war president" was not acting fast enough to protect Americans.

Kerry said Bush should immediately call a special session of Congress to implement the recommendations of the Sept. 11 commission, and he said he would interrupt his campaigning to be there for debate and voting "when necessary."

"When we are at war, we need to do the things that make us safe rapidly, immediately," Kerry said. "If there is something that will make America safer, it should be done now, not tomorrow."

Kerry has embraced all the recommendations to improve homeland security suggested by the Sept. 11 commission, including a Cabinet-level intelligence director who would oversee and coordinate all intelligence functions. Bush said he wants the intelligence chief to be outside White House authority.

"I will hire the person and I can fire the person," Bush told reporters in the Rose Garden. "I don't think that the office should be in the White House, however, I think it should be a stand-alone group to better coordinate."

Kerry repeated his argument that the Bush administration is encouraging the recruitment of terrorists. He said Bush hasn't reached out to other countries and the Muslim community.

"The policies of this administration, I believe and others believe very deeply, have resulted in an increase of animosity and anger focused on the United States of America," Kerry told reporters after a campaign meeting with first responders. "The people who are training terror are using our actions as a means of recruitment."

Bush said, "It is a ridiculous notion to assert that, because the more the United States is on the offense, more people want to hurt us."

Bush challenged Kerry, who voted to give him the authority to send troops to Iraq, to agree with him publicly that ousting Saddam Hussein was the right course of action. However, Kerry has repeatedly said that ousting Saddam was right.

"I find it interesting in the political process that some (say), 'Well, I voted for the intelligence,' and now they won't say whether or not it was the right decision to take Saddam Hussein out," Bush said. Aides said Bush was referring to Kerry's vote in fall 2002 to authorize force against Iraq and his sharp criticism of the handling of the war since then.

The Kerry campaign said the president's statement was misleading.

"It was not a mistake to remove Saddam," Kerry spokesman Phil Singer said. "What was a mistake was the fact that George Bush went to war without our allies, without properly equipping our troops and without a plan to win the peace."

Kerry and Bush are running close in the polls, with Kerry having a slight edge in some, Bush in others. Bush generally has a double-digit lead over Kerry on the handling of the campaign against terrorists.

Kerry later traveled to Muskegon, where he rode a new high-speed ferry across Lake Michigan to a Milwaukee rally.

Cheering supporters interspersed with a few Bush backers lined the breakwaters, and Kerry waved from the top deck as Coast Guard and police boats provided security alongside and a helicopter followed overhead. Out on the open water, Kerry stood at the bow and held his arms wide in the pose made famous by Leonardo DiCaprio in the movie "Titanic."

Kerry told several thousand who lined downtown Milwaukee's riverbank that recruiting allies to help gather intelligence to fight the war on terror is what the Bush administration does worst.

"The way you win a war on terror is knowing who they are, where they are and being able to go get them before they get us," Kerry said. "And that requires the best intelligence in the world and that requires the best cooperation with other countries we ever had. The one thing they do worse we need to do better."




Today's Top News
Top World News

Annan applauds China's role in United Nations




Talks ongoing to free kidnapped Chinese




WHO report highlights traffic safety in China




China issue rules on overseas investment




Assessing status of nation's health




Bus crash kills 21 in Southwest China