Price of made-to-order beauty
By Chong Zi (China Daily)
Updated: 2004-08-03 10:20
Keep your eyes wide open for brand new beauties.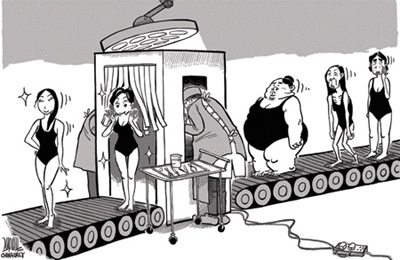 Beauty can now be processed on a production line of countless plastic surgeries. [Luo Jie]

Beijing is set to hold a novel beauty contest in October. All the participants will be women who have undergone cosmetic surgery. They will compete for the title of Miss Plastic Surgery.

The contest is to open to women from every corner of the world. Contestants will have to produce doctor's certificates confirming their charms were manufactured on the operating table.

Weird?

When human cloning is no longer news, cosmetic surgery should not sound spooky.

Yang Yuan was barred from entering a pageant after the organizer discovered the 18-year-old had intensive cosmetic surgery. The girl filed a lawsuit against the organizer, demanding 50,000 yuan (US$6,100) for "emotional damage."

In its note to Yang explaining why she was kicked out of the Miss Intercontinental Contest, the organizer, Beijing Tianjiu Weiye Culture and Media Co, called her a "man-made beauty."

A court in Beijing turned down Yang's lawsuit, claiming the term "man-made beauty" is so widely used that Yang's argument was unacceptable.

Yang spent 110,000 yuan (US$13,000) going under the knife 11 times for looks worthy of the title of Miss Intercontinental.

Spotting her in a "before-and-after" advertisement for plastic surgery, the organizer decided to disqualify her.

In the words of the organizer, a bit of cosmetic surgery is permissible in contests. Yang, however, went too far. She had changed her face completely.

Soon women like Yang will have a competition of their own. The born beauties will be shut out.

So should this be a beauty contest or a showcase of plastic surgeons' bag of tricks?

Perhaps it is a classic case of either-or.

A flat chest? Flat nose? What about those 30 extra pounds? All can be fixed with money and a bit of surgery.

The pressure to be beautiful - and sexy - has never been so great.

Beautiful women have a better chance of getting jobs and tend to marry higher-earning men, according to some studies.

People are more likely to buy items from physically attractive salespersons. When asked to describe people based simply on a photograph, study participants classified attractive people as sexually warm, responsive, sensitive, kind, interesting and strong.

Beauty is an asset, and no one is more aware of that message than body-conscious teens.

In China teenage girls are not the only group of people going under the knife. A large number of women in the 30-40 age bracket give themselves to plastic surgeons for facial jobs and breast implants.

China Women's Journal reported there are 1 million beauty salons in this country, with 6 million employees.

Not all plastic surgeries have brewed new beauties. Some 200,000 such operations were botched in the 1990s.

However, this figure is not too frightening to wave the caution flag.

The money pumped into beauty treatment hits 20 billion yuan (US$2.4 billion) every year.

A rosy sector, indeed.

As there is money to be made in plastic surgery, more doctors are getting into the field, some of whom may not be qualified.

Why are women doing this to themselves?

Attitudes toward plastic surgery have changed. More people are willing to undergo surgery if it means looking and feeling better.

Young women everywhere are looking for love, for acceptance. But while a body-enhancing makeover - like a sexual fling - may temporarily do the trick, the long-term answer is not just skin-deep.

Cosmetic surgeries fail to deal with why a person feels he or she does not live up to society's expectations.

Some patients have unrealistic, and frankly, unhealthy expectations about what plastic surgery can do for them.

Changing their face does not fix what is wrong with them.

Happiness is a serious business.

Beauty is like wealth. It increases over time, yet its distribution is unequal. However much of it we have, someone else has more.

One way of seeing plastic surgery is as a new form of equal opportunity. Looks do count, which does not seem fair.

In 1993, two economists found that good looks increased hourly income by 5 percent.

It is not just a matter of good-looking people going to work in Hollywood and bad-looking people digging ditches. Even within any given occupation, good-looking people earn more.

From an economic perspective, higher productivity justifies higher income. So the relevant question is whether good looks lead to higher productivity.

Daniel Hamermesh, an economist at the University of Texas at Austin, and Jeff Biddle, an economist at Michigan State University, have found exactly that relationship in their research.

This is why looks are so important in TV news. A good-looking anchor attracts more viewers. And a bigger audience enables a TV station to charge higher rates. That is a productivity boost created by good looks, so a higher salary is fair.

Professor Hamermesh and one of his students recently studied the relationship between attractiveness and the performance ratings of college teachers. They found that good-looking teachers get higher performance ratings. To the extent that college teachers are compensated, at least in part, for their teaching abilities, good looks will be correlated with more money. Professors Hamermesh and Biddle found the same sort of thing for attorneys. Whether good-looking attorneys succeed because their looks attract clients or sway juries, this is a productivity effect that justifies higher rewards for better-looking lawyers.

Looks are not the be all and end all, but they matter a lot.

No surprise, then, that tons of money go to cosmetic and plastic surgery.

We are living in an intermediate era, where women are certainly made aware of body image to a degree and with a degree of detail that they never were before. It seems every year there is a new part of the body that is offered up for correction - and you never even know it has standards.

I have the feeling we are moving towards a future in which these things will be more routine and normalized.

Hamermesh admitted that his findings are not popular with many people. They, however, appear to be a sad fact of life.

So what if we could intervene earlier, when it might be possible to make a difference that matters? What if we had the power to ensure that our children are born with good looks? What if we could customize our children's physical characteristics in the same way we can customize the features of a new car?

Sure, it sounds outrageous. But it will not be long before genetic engineers perfect these techniques. And knowing the financial penalty of below-average looks, why would not we try to keep our kids from being saddled with that disadvantage?

Were everyone beautiful, the pay gap between the good-looking and bad-looking people would disappear.

Sounds great?

I doubt it.

The danger in creating children like hybrid plants or some consumer product is that we might compromise our humanity. We would look upon our children as products.





| | |
| --- | --- |
| | |
| Nicolas Cage weds 20-year-old former waitress | |

| | |
| --- | --- |
| | |
| The tidbits of Beijing life | |

| | |
| --- | --- |
| | |
| Liu Xuan issues new book for youth | |
Today's Top News
Top Life News

Book: I'll only feed you until you're 18




Lee's visit hampers free-trade talks




HSBC confirms 19.9% stake in Chinese bank




Kerry: Bush policies encourage terrorism




Japanese probing chemical weapons




Taxes to be levied on expatriates