A rough road to the top
(eastday.com)
Updated: 2004-08-03 08:42
Jin Haili talks exclusively to one of China's No. 1 singers and discovers the truth behind the unusual sounds of Yang Kun. When pop singer and songwriter Yang Kun released his debut album two years ago, no one expected the then 30-year-old would become an instant hit.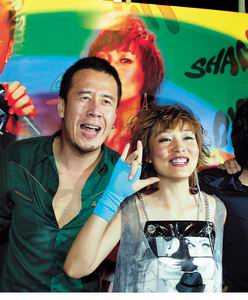 Yang and diva Chen Lin promote their first concert in Shanghai. [eastday.com]

But at the end of this March, Yang scooped the pool of major Chinese music awards with his unique voice. His debut album "Whatever" has sold more than 1.2 million copies at a time when the Chinese music industry has slowed down.

Last Tuesday, Yang was in town to promote his first concert in Shanghai which will also star diva Chen Lin.

Although Yang has collected four "Best Male Singer" awards, the 32-year-old says his most exciting moment was last year when he received "Best New Artist" at the East Music Awards in Shanghai.

"It's just like you have been searching in the darkness for a long time and then you finally see where the door is," he says.

Yang is not a pinup model and at times his weather-beaten face makes him look older than he actually is. Critics say his ability to belt out ballads with his melancholic voice encapsulates the thoughts and lives of an exhausted society.

"Yang Kun's popularity is in line with a trend of sad songs," says Dai Fang, a Beijing music critic. "But he is very unique because he writes songs himself and has years of experience. I think he's not only going to be part of the trend but will maintain his own style."

In 1993, Yang moved from his hometown in Baotou of Inner Mongolia Autonomous Region to Beijing to pursue his music dreams. A stranger with no money, he began as a busker with an old guitar, visiting local bars for short gigs. He asked for 10 yuan (US$1.2) for each song. But when things got tight, he accepted five yuan.

"I wanted to give up many times, especially when I could see no hope and had suffered many setbacks," Yang recalls. "But my pessimism was overtaken by the occasional positive moment, like going to a good concert or hearing music in the bars. It had an effect on me and drove me to keep going."

In 1999, Yang began to send out demos to all the music companies but was given the cold shoulder because many thought his raspy voice was actually a medical problem, plus he didn't have a young handsome face for selling albums. But all that changed when the demo reached Shen Yongge, general manager of Zhu Shu Entertainment.

"I didn't see any risk promoting him because he's a singer with his own style and that is just what the market needs," Shen says. "What we consider is how to develop his potential to an international pop star."

There's been no need to look back since Zhu Shu Entertainment came onboard - today Yang is paid 150,000 yuan for performing just one song.

Last November, the company released Yang's second album "That Day" which cost 2 million yuan to make. The album features a wide range of music styles, including jazz.

In late February, Yang performed at the "Dream of 2004" concert in Osaka, Japan, which also featured two Grammy winners, Peabo Bryson and Japanese legendary diva Maki Ohguro. Both Bryson and Ohguro were impressed by Yang's voice and talent and talked with him about the possibilities of future collaborations.

What's ironic is that the popular raspy voice was actually an accident.

Yang underwent an operation to save his overused throat, but he returned to pub gigs just four days after the operation, which ripped his vocal chords.

"The doctor said that I could not sing anymore, but I don't think it's bad to have a hoarse throat. The most important thing for me is to continue with my own music," Yang says firmly.

The movie industry also extended an invitation to Yang with plans from director Feng Xiaogang inviting him to be part of a film next year.

"I am hopeless with plans and schedules, so I don't know if I can afford the time. What I want to do first is introduce Mongolian elements into my next album," Yang says. "I think I have done songs about despair and sadness. I want to try something new this time. Something broad and deep inside my soul that I have been carrying with me from the very beginning."




| | |
| --- | --- |
| | |
| Nicolas Cage weds 20-year-old former waitress | |

| | |
| --- | --- |
| | |
| The tidbits of Beijing life | |

| | |
| --- | --- |
| | |
| Liu Xuan issues new book for youth | |
Today's Top News
Top Life News

Lee's visit hampers free-trade talks




Japanese probing chemical weapons




Taxes to be levied on expatriates




China condemns bombings in Uzbekistan




Paraguay inferno survivors: Doors were shut




National flood danger defused: report