Paraguay inferno survivors: Doors were shut
(Agencies)
Updated: 2004-08-03 08:37
Survivors of a supermarket blaze in Paraguay that killed at least 364 people found exit doors locked and in one case welded shut as they desperately tried to flee the inferno, police and witnesses said on Monday.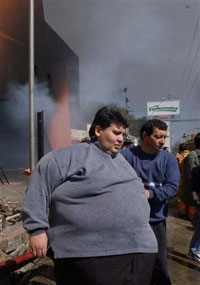 Victor Daniel Paiva, center, co-owner with his father of the Ycua Bolanos supermarket, leaves the supermarket during the fire in Asuncion, Paraguay. The Paivas are being investigated after survivors said locked doors impeded the escape of shoppers from the fire that killed at least 364 people in Paraguay's worst disaster in decades. [AP]

"There are several witnesses who saw how they shut the doors to the supermarket and we also confirmed that the emergency exit was welded," Paraguayan Police Chief Humberto Nunez told Reuters.

Firefighters had found the main doors shut, he added.

Prosecutors probing allegations guards locked exit doors to keep shoppers from fleeing without paying for their groceries asked the courts to keep the supermarket president, his son and four guards in custody pending further investigation.

Survivors of Paraguay's worst disaster in decades recounted how the blaze swept through the packed supermarket, in a working-class neighborhood on the outskirts of the capital, at midday on Sunday.

"I reached the door, but it was locked shut and I could not leave through it," survivor Blanca Alcaraz told local television from her hospital bed. "Then everyone rushed on top of us and we were thrown to the floor."

Newspaper photographs showed people outside the market trying to break windows to free those asphyxiating inside.

Officials said the fire was caused by a gas explosion near the food court.

A large number of children, who had accompanied their parents on regular Sunday shopping trips, were among the dead. Many entire families perished together.

"All of us that suffered this tragedy want the same thing -- to know why it happened and make the guilty pay," said Mirta, 60, who lost her 19-year-old daughter.

Three owners of the Ycua Bolanos supermarket and three security guards were in police custody. Main shareholder Juan Pio Paiva said no orders were given to lock the doors.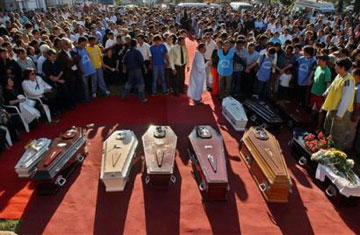 A priest presides over a pre-burial cermony for ten victims of the Ycua Bolanos Supermarket fire Sunday, in the yard of the Santisima Trinidad church in Asuncion, Paraguay on Monday, August 2, 2004. More than 300 people in the Sunday fire. [AP]


"It does not make sense in a fire of this magnitude for security guards to close the doors and stay inside," he told a news conference.

EXPLOSION, THEN FLAMES AND SMOKE

Witnesses told of an explosion, the flames' rapid spread and suffocating smoke overtaking those who ran to the exits or a parking lot beneath the market. Several charred corpses were found in burned cars.

President Nicanor Duarte Frutos called for a rapid investigation "so those responsible are punished with the full force of the law." He said a "majority" of the exits appeared locked.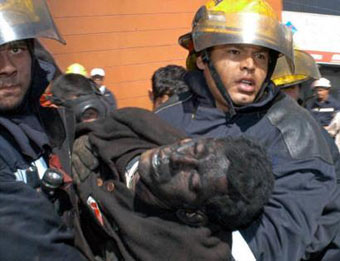 A burn victim is carried out by firefighters after a supermarket fire on the outskirts of Paraguay's capital Asuncion, August 1, 2004. [Reuters]

"As we ran to the exit, I looked back and saw a ball of fire and the roof fall on several people," said survivor Liz Torres, whose face and hands were completely blackened.

Rescuers used small black bags on Monday to remove charred remains.

The Ministry of Health reported 256 people hospitalized, 70 of them in intensive care.

"I grabbed my little brother by the hand but then I let go because there were so many people. Then fire fell on my leg and I fainted," said Maria Elena, 9, who wore an oxygen mask as she lay in her hospital bed. Her brother was in intensive care.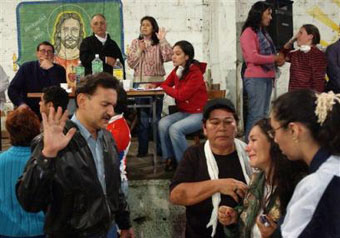 Christian laypersons of the Santisima Trinidad Catholic church comfort an undentified relative of one of the victims, second right, of the fire that roared through the Ycua Bolanos Supermarket in Asuncion, Paraguay on Sunday, August 1, 2004. [AP]

Paraguay, a country of 6 million, called the fire its worst tragedy since a 1930s war with Bolivia that killed thousands.

The government declared Monday a day of national mourning and suspended all official activities and school classes.

The magnitude of the disaster stretched the public services of one of South America's poorest countries. Hospitals were overwhelmed by patients suffering from burns and lung damage.

Foreign governments mobilized urgent aid. Neighboring Argentina dispatched an aircraft loaded with medication and bandages. Former colonial ruler Spain was sending supplies and psychological counseling teams and Pope John Paul II sent condolences to the mostly Roman Catholic country.




Today's Top News
Top World News

Book: I'll only feed you until you're 18




Lee's visit hampers free-trade talks




HSBC confirms 19.9% stake in Chinese bank




Kerry: Bush policies encourage terrorism




Japanese probing chemical weapons




Taxes to be levied on expatriates