New Baiyun Airport declared open in Guangzhou
By Zhan Lisheng (China Daily)
Updated: 2004-08-03 02:11
A massive new international airport has been officially declared open for business by Yang Yuanyuan, director of General Administration of Civil Aviation of China.
The new Guangzhou Baiyun International Airport's operation licence will begin on Thursday.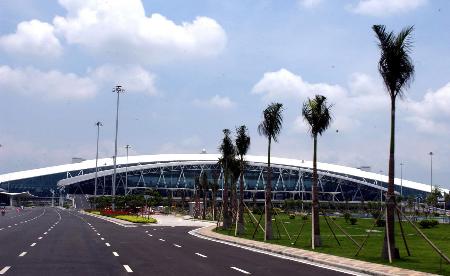 The major building of the new Guangzhou Baiyun International Airport is seen in this June 5 photo. [Xinhua]

Three operational rehearsals and an official examination by the authorities have been carried out in readiness for the opening.

The existing airport will cease operation when the last flight lands before 12:00 pm tomorrow. The first flight on August 5 will take off at the new airport, 28 kilometres away from downtown Guangzhou.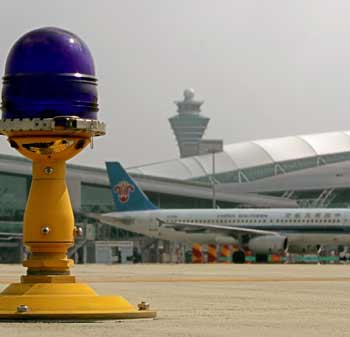 A guide light sits on the landing tarmac in front of a China Southern aircraft parking at Guangzhou Baiyun International Airport August 2, 2004. [Reuters]


"Some of the relocation work has already been finished and relocation of vital flight equipment will be finished late tomorrow, ready for the first take-off on Thursday," said Zhang Chunlin, president of Guangdong Provincial Airport Administration Group, at a grand ceremony Monday.

The transport work began on Wednesday, when China Southern Airlines, the airport's base airline company, moved its jumbo engines for Boeing 747's and maintenance platforms to the new site.

More than 70,000 pieces of equipment will be taken to the new airport in the next few days. All the relocation work should be finished by Saturday.

The new airport will become Guangdong's pivot airport, with the ones in Shenzhen and Zhuhai playing the role of trunk airports. Those in Shantou, Meixian and Zhanjiang will act as support airports, said Huang Huahua, governor of Guangdong Province.

The airport will not only benefit from business opportunities but also be able to meet the growing demands of the world's economic globalization and stronger economic co-operation among the Greater Pearl River Delta region members, including the special administrative regions of Hong Kong and Macao, the provinces of Guangdong, Hainan, Guizhou, Yunnan, Hunan, Fujian, Jiangxi and Sichuan, and the Guangxi Zhuang Autonomous Region, the senior official said.

The project, which has cost 19.8 billion yuan (US$2.39 billion), began in August 2000.

The initial phase covers an area of some 15 square kilometres and is capable of handling 25 million passengers annually and 1 million tons of cargo a year.

The airport has two runways and it

also boasts the largest cargo station as well as the largest hangar in the Chinese mainland.

The cargo station covers more than 10,000 square metres and the hangar, which costs more than 900 million yuan (US$108.43 million), takes up 96,000 square metres, large enough for four Boeing 777 aircraft to be parked there.




Today's Top News
Top China News

Book: I'll only feed you until you're 18




Lee's visit hampers free-trade talks




HSBC confirms 19.9% stake in Chinese bank




Kerry: Bush policies encourage terrorism




Japanese probing chemical weapons




Taxes to be levied on expatriates