Japanese probing chemical weapons
By Cao Desheng (China Daily)
Updated: 2004-08-03 00:30
A team of Japanese experts Monday started an investigation into the Japanese-abandoned chemical weapons that injured two school boys in Northeast China -- but not without a tough welcome.
The seven-member team, led by officials from Japan's special office for abandoned chemical weapon disposal, arrived at Lianhuapao Village in Dunhua, Jilin Province only to be greeted by a crowd of area residents, witnesses said.
For a brief period, the angry Chinese blocked the cars of the Japanese officials, calling out for redress for the injured boys, and stating public anger over dissatisfaction with previous investigations into chemical incidents in the community.
After about a 30-minute standoff, Chinese officials persuaded the crowd to disband, and the Japanese investigators began their work, witnesses said.
Results, so far, have not been revealed to the public.
However, Chinese experts have confirmed the chemical weapons contained mustard gas discarded by Japanese troops in 1945.
Once the weapons were identified as chemical bombs, Japanese officials were notified.
Zhou Tong and Liu Hao, the two boys hurt by the chemical weapons, have undergone operations in Dunhua Hospital.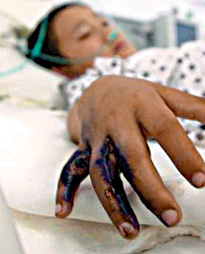 Liu Hao, 9, receives an intravenous drip at the Dunhua Municipal Hospital on July 27, 2004. Liu has blisters on his right leg and hand. He and three other boys found the bomb in a river when they were playing there on July 23, 2004. [newsphoto]

They are recovering from their wounds but the influence of chemical weapons upon their health still remains unknown, local media quoted a doctor as saying.

Officials say the boys uncovered the 50-centimetre-long barrel full of chemicals on July 24 when the two and some other children were playing near a river close to their village.

Out of curiosity, one of the boys pried open the rusted weapon and the liquid flowing out of the barrel splashed onto their fingers and legs.

Sources from the Tonghua Hospital said the Japanese officials and experts did not visit the two victims Monday.

Parents of the victims have filed compensation demands in writing to the Japanese Government through local government, according to Xiangbao Newspaper.

Since the two boys were injured, 30 more chemical weapons have been uncovered in the village.

Some 670,000 chemical weapons were dumped in Dunhua, the area in China with the most abandoned Japanese chemical weapons, according to a report in the Shanghai-based Oriental Outlook.

Experts say the potential hazard of Japanese-left chemical weapons still remain since many farmers are not aware of the serious damage the potentially lethal weapons may cause.




Today's Top News
Top China News

Father: I'll only feed you until you're 18




Lee's visit hampers free-trade talks




HSBC confirms 19.9% stake in Chinese bank




Kerry: Bush policies encourage terrorism




Japanese probing chemical weapons




Taxes to be levied on expatriates