Lee's visit hampers free-trade talks
By Jing Ji (China Daily)
Updated: 2004-08-03 00:30
Talks on a free-trade area between China and Singapore could suffer setbacks because of Lee Hsien Loong's visit to Taiwan.
An official from China's Ministry of Commerce said trade ties had been hampered by the Singaporean leader's visit.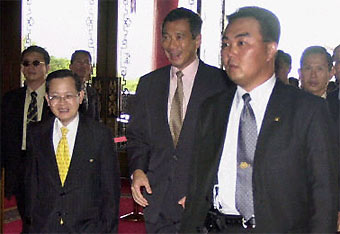 Singapore's Deputy Prime Minister Lee Hsien Loong (C) after having lunch with Taiwan's "Premier" Yu Shyi-kun in Taipei. [AFP]

"His visit has dampened the mood to negotiate the free trade area between the two countries," said the unnamed official.

Reports have speculated that the FTA talks will be delayed or cancelled because of Lee's visit, which took place between July 10 and 13.

"Delaying or cancelling the talks will not cause problems because a neither a feasibility study nor negotiations have started," the official said.

The Chinese Government has expressed its strong disapproval of the visit.

On July 11th, Foreign Ministry spokeswoman Zhang Qiyue said that whatever pretext the Singaporean leader used for the visit, it would damage China's core interests and the political foundation for China-Singapore relations. It had offended 1.3 billion Chinese people and the Singaporean side had to take responsibility for the consequences, Zhang said.

She said the Taiwan question directly affected China's sovereignty and territorial integrity.

"We are firmly opposed to official exchanges in any form between the Taiwan authorities and countries that have diplomatic relations with the People's Republic of China," she said.

The official response indicates a bitter pill for Singapore to swallow.

Analysts have been split over whether the diplomatic spat between China and Singapore will affect trade or business ties or whether China's action is symbolic.

Xu Ningning, an expert on China's trade and economic relations in Southeast Asia, said the impact on the talks was unavoidable.

Singapore has been pushing the talks forward with China, but China has been slow to respond because its own free-trade area negotiations with the ASEAN (Association of Southeast Asian Nations), which includes Singapore, has not finished, Xu said.

Singapore expected separate talks would help forge an area between the two countries before one was finalized between China and the ASEAN.

China and ASEAN's 10 members reached an agreement in November 2002 that outlined a framework for negotiating and establishing a free-trade area by 2010.

Chinese officials have promised areas with single ASEAN members could be set up when negotiations with the ASEAN have finished.

In fact a pact with Singapore would be less beneficial to China than one with the ASEAN as a whole, Xu said.

"But for Singapore, a free trade pact with China would be the next most important after theirs with the United States," Xu said.

China is Singapore's second-largest trading partner, with two-way trade totalling nearly US$40 billion last year.

China is actively participating in regional economic co-operation, the ministry official said.

New progress has been in negotiations between China and ASEAN. China has also started talks with SACU (Southern African Customs Union) and GCC (Gulf Countries Council). Stable development has been achieved in the feasibility study of free-trade areas with New Zealand and Chile.




Today's Top News
Top China News

Father: I'll only feed you until you're 18




Lee's visit hampers free-trade talks




HSBC confirms 19.9% stake in Chinese bank




Kerry: Bush policies encourage terrorism




Japanese probing chemical weapons




Taxes to be levied on expatriates