Royal life takes its toll on Japan's crown princess
(Agencies)
Updated: 2004-08-02 17:08
Japan's Crown Princess Masako, diagnosed as suffering from a psychological disorder brought on by stress, was an outgoing career diplomat when she married into the world's oldest monarchy 10 years ago.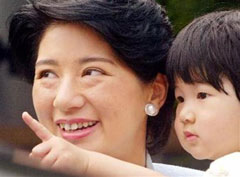 Japanese Princess Aiko (R) in the arms of Crown Princess Masako, points upon their arrival at Masako's parents' house in Tokyo in this February 5, 2003 file photo. [AP]

But since the fanfare of her June 1993 wedding to the heir of the ancient Chrysanthemum Throne, Masako has slowly faded from public view, last appearing at an official function in December.

Hopes that she would become a "royal diplomat" who would give a human face to the rigid Japanese imperial tradition in the mould of Princess Diana were dashed as it became clear she was being smothered by the "Chrysanthemum Curtain" of royal protocol.

Concern about her health and frame of mind mounted, with reports of illness and "weariness" that were compounded by Crown Prince Naruhito's almost unheard of departure from protocol this year to criticize the cloistered and deeply traditional royal household's treatment of his wife.

From the start Masako, 40, was under pressure to produce a male heir to continue a royal line that -- by some accounts -- stretches back to the seventh century BC and has a male-only succession law.

After a miscarriage in 1999 -- blamed on stress caused by a media frenzy, Masako gave birth to a daughter in December 2001. The arrival of Princess Aiko sparked a debate about women entering the line of royal succession, but officials said there was no rush to change current laws.

In December last year Masako was hospitalized with shingles. Then in January she released a statement saying she was suffering from accumulated "mental and physical weariness".

"Since my marriage some 10 years ago, I have always tried to do my utmost under the great pressure of an environment with which I was not familiar," she said.

In April she cancelled all events she had planned to attend that month and in May she stayed behind when her husband went on a 12-day tour of Europe and attended royal weddings in Copenhagen and Madrid.

In an unusually candid news conference ahead of the tour, Naruhito, 43, criticized his minders' treatment of his wife saying she was anguishing over the difficulty she had in going abroad and the stifling of her personality.

"It is true that there were developments that denied Princess Masako's career up to then as well as her personality driven by her career," Naruhito said in rare criticism that was said to have shocked his parents, Emperor Akihito and Empress Michiko.

On Friday the Imperial Household Agency finally put a name to the mystery condition afflicting the crown princess, saying she was suffering from Adjustment Disorder brought on by stress.

The agency attributed Masako's condition to her unusual status as crown princess, her experience of pregnancy and her miscarriage, and difficulty in separating official duties from private life.

She has been undergoing treatment but is still displaying anxiety and "depressive feelings", officials said.

"Her treatment has mainly focused on mental therapy and adjustment of her surroundings. Also a light pharmaceutical treatment is utilized," the Imperial Household Agency said.

"For now, rather than asking her to resume her official duties, we are asking her to focus on her private activities to improve her mental energy."

Sporty and outgoing, Masako seemed an unlikely candidate for the controlled world of Japan's royal family.

She twice rebuffed marriage proposals from Naruhito, who had fallen for her in 1986. But she finally relented and submitted to rigorous lessons in the minutiae of imperial etiquette before her wedding.

Widely traveled, she is the daughter of a career diplomat who took his family to Moscow, New York and Boston. She also enjoyed summer sojourns in Germany and France.

She entered Harvard University in 1981, enrolling in economics and graduating magna cum laude four years later.

Returning to Japan, Masako entered the Tokyo University law faculty -- the training ground for generations of Japanese leaders -- and went on to join the foreign ministry fast track. Her graduate studies finished at Oxford's Balliol College in 1990.

After her marriage, Masako occasionally appeared in public, mainly to visit senior citizens at hospitals, or for set-piece photo opportunities while hiking -- and was almost always a few paces behind her husband.

The couple has made only five foreign trips since they married, the latest one, to Australia and New Zealand, taking place in December 2002.




| | |
| --- | --- |
| | |
| Nicolas Cage weds 20-year-old former waitress | |

| | |
| --- | --- |
| | |
| The tidbits of Beijing life | |

| | |
| --- | --- |
| | |
| Liu Xuan issues new book for youth | |
Today's Top News
Top Life News

Book: I'll only feed you until you're 18




Lee's visit hampers free-trade talks




HSBC confirms 19.9% stake in Chinese bank




Kerry: Bush policies encourage terrorism




Japanese probing chemical weapons




Taxes to be levied on expatriates