'We're pregnant!'
By Kaiser Kuo (That's Beijing)
Updated: 2004-08-02 16:44
The Old Wives of China have it all wrong, I'm now convinced. My wife had every telltale sign that the mantou in her steamer was a boy - the pizza face, the cravings for sour foods, and most noticeably, the pointy (as opposed to wide) belly. There was never any doubt with any of dozens of old wives with whom we crossed paths from the fifth month on. I can't count the number of times we were told, "Look at how pointy that belly is! That's a boy, I tell you. 100 percent."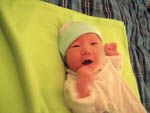 We had no preference, though under sufficiently sadistic interrogation I might have confessed to leaning towards a girl, and Fanfan, towards a boy. But all those old wives had me focusing my efforts at coming up with boy names and checking out the very cool remote control tanks with rotating turrets at the toy stores, and I admit I was a bit baffled when the sprightly 72-year-old radiologist who administered our ultrasounds at Peking Union Medical College Hospital told us, cryptically, that we'd be better off shopping for pink clothes. Science, 1; Superstition, 0. "Who says girls can't play with remote control tanks?" I thought.
Our daughter, Guenevere Puxin Kuo, was born on April 12 - just four days before I wrote this. Oh, and the venerable doctor gets props for sticking to a very good law forbidding disclosure of gender. He couldn't be persuaded into giving us a straight answer, even though he professed to believe we weren't the type of people apt to commit sex-selective abortion.
The passage of time is strangely erratic. Hours go by sometimes as I'm writing under deadline and I've barely managed to tap out a paragraph. The seasons usually fly right by. But during my wife's pregnancy, time barely crawled, and it felt like she'd been pregnant for as long as I'd known her - until the end, when after lulling me into believing I still had a couple of leisurely weeks, time got up and sprinted past me, knocking me flat on my ass. At 3am Monday morning, Fanfan woke me up to tell me she was having what felt suspiciously like contractions. "False labor," I confidently misdiagnosed. They were too close together to be the real thing, what without the more widely spaced contractions we had been told to expect first. We went to the hospital just to be sure. Nine hours later - during which time slowed once again to a crawl - we were parents.
'We're pregnant' in Chinese - 'wo men huai yun le ' - still sounds strange to most Chinese though it's now common parlance in English. Try, as a new father, telling a Chinese friend "we gave birth." I did that and was corrected with, "No, your wife gave birth. You stood by and tried not to completely freak out."
Not surprisingly, Guenevere is cute as a Chinese baby. Fanfan gets a huge kick out of the fact that such an idiom exists in English. Given to reckless reduction of all human behavior to evolutionary biology, I hypothesised why it is we all find babies of other races to be so cute. "It's so babies might be spared in the mad, race-based, genocidal warfare that has dogged humanity for eons," I declaimed. "No," she said, "it's because nature loves diversity."
My first day of fatherhood, I forgot virtually everything I learned from the books I'd read. A team of nurses patiently instructed me in everything I needed to do to take care of wife and child, and after some fumbling I think I've gotten the hang of diapers and swaddling, bottle sterilisation, breast pumps and near-total sleep deprivation.
Actually, she's been sleeping better. Fanfan attributes it to her breast milk, which Guennie has been gulping down copiously in the last day or two, but I secretly believe that my singing's the key. 'I've Been Working on the Railroad,' 'If I Were a Rich Man' from Fiddler on the Roof, and 'Edelweiss' seem to be our daughter's favorite tunes so far - guaranteed, when accompanied by goofy faces and dancing, to calm her right down.
The baby's crying - time to go do my thing.
| | |
| --- | --- |
| | |
| Nicolas Cage weds 20-year-old former waitress | |

| | |
| --- | --- |
| | |
| The tidbits of Beijing life | |

| | |
| --- | --- |
| | |
| Liu Xuan issues new book for youth | |
Today's Top News
Top Life News

Book: I'll only feed you until you're 18




Lee's visit hampers free-trade talks




HSBC confirms 19.9% stake in Chinese bank




Kerry: Bush policies encourage terrorism




Japanese probing chemical weapons




Taxes to be levied on expatriates