Giving help to those who need it
(China Daily)
Updated: 2004-08-02 15:42
The Ministry of Civil Affairs has urged aid stations across the nation to provide more effective assistance to the nation's needy as the first anniversary of the introduction of the Measures on Aid and Management of Urban Vagrants and Beggars was marked on August 1.
"More effort is needed to make the aid reach the needy more quickly and efficiently," said Zhang Shifeng, vice-director of the Social Welfare and Social Affairs Department with the Ministry of Civil Affairs.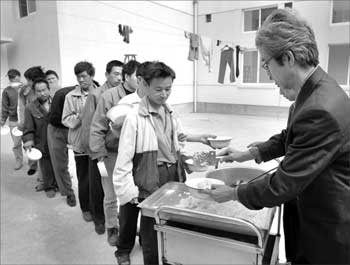 People queue up for food at an aid centre in Hangzhou, East China's Zhejiang Province. [file]

A widely reported incident early this year has served as the best example of why the ministry is putting such an emphasis on improving aid efforts.

It was reported that Sun Wenliu, 44, a farmer from Shandong Province who worked as a migrant worker in a brick factory in Mengzhou, Central China's Henan Province, was allegedly beaten until he was handicapped by his boss and had to sit on a trolley and wheel himself back home to Tancheng County of East China's Shandong Province, starting in July last year and finally reaching home this February.

Sun's journey coincided with the country's launch of the new measures to aid urban vagrants and beggars.

However, Sun was not lucky enough to be helped by the new regulation which aims to provide food and temporary dwelling to the homeless and provide travel fares for their trip back home. All the aid stations along Sun's journey failed to give him a helping hand. It was not until Sun reached his home and the media revealed his story earlier this year that the local civil affairs department looked into the case and began to provide an allowance to him from February.

Sun has so far received donations of more than 20,000 yuan (US$2,400) from individuals and organizations across the country. A hospital in Tancheng County provided him with free surgery on his broken legs and arms. Thankfully, Sun is now recovering.

Responding to criticism that aid stations are still not known to all those in need, the ministry has urged local authorities in major cities across the country to erect road signs indicating the location of aid stations by the end of October, Zhang from the Ministry of Civil Affairs said in a recent interview.

Other cities will also be ordered to establish road signs for aid stations in the near future.

Helping street children

In addition, the ministry has earmarked 25 million yuan (US$3 million) this year to establish special aid centres for street children.

There were at least 150,000 street children under the age of 16 in each of the past three years, according to statistics from the ministry.

Their stories vary, but what does not is the lack of support available to them.

In the vanguard of aiding homeless children, Shijiazhuang, the capital of North China's Hebei Province, built the country's first government-funded shelter especially for street children in March 2002.

Others that recently began to establish such centres for street children include Guangdong, Shandong, Hubei and Henan provinces.

Most of China's homeless children have to take care of themselves or are forced to work or beg for criminal gangs. In return, they get food and "protection" on the streets, said Xia Jiechang, a professor at Chinese Academy of Social Sciences.

"The children need special care including psychology courses for them," Xia said. "Those who do well in academic study need to be sent to normal schools."

But most aid shelters across the country do not separate street children from adults, and usually send them back to their hometowns after a short period of supervision.

Other puzzles annoying civil affairs officials include that some homeless people prefer continuing to roam on the streets rather than go to shelters, posing a potential threat to cities' security. And officials are also puzzled about how to distinguish the really homeless and helpless from people who just take advantage of free food and other aid.

Officials revealed that some individuals carrying mobile phones came to aid shelters and claimed to have suffered huge losses in business and say they have no money for food and housing.

Some just went to the station to demand transport costs to return to their hometown.

However Civil Affairs Minister Li Xueju says it does not matter that some people exploit a loophole in the regulation by getting assistance for several days in the shelters.

"We cannot ignore the regulations just because of some small loopholes and problems," Li told a work conference earlier this year.

Improving human rights

In the 12 months since the new regulation came into effect, the country's roughly 910 aid stations have provided shelter and assistance to more than 470,000 vagrants and beggars, statistics showed.

The new regulation was launched to replace the two-decade-old Regulation on Detention and Deportation of Vagrants and Beggars in Cities which was regarded as a human rights violation.

It used to be a common practice in many big cities to collect street tramps, by definition those "who are without legal residency documents, without a normal dwelling place and without a normal means of support," and place them in temporary confinement before deporting them to their hometown.

Legal experts argued that such a practice was a human rights violation and contrary to the stipulation in the Constitution that the "citizen has the freedom of the person."

The former holding and deportation system for vagrants and beggars in urban areas are no longer suitable for the current situation, Zhang Shifeng from the Ministry of Civil Affairs said.

"Great changes had taken place in the economic and social fields and the situation with regard to the flow of migrant population had also changed significantly during the past two decades," he said.

The new regulation is also in a bid to improve the country's social security system.

Vagrants, who have neither the ability to feed themselves, nor relatives or friends to seek refuge with and enjoy no minimum living allowance, can receive help from aid stations for vagrants and beggars, according to the new regulation.

Generally, vagrants and beggars registered at the aid stations can receive basic food rations and accommodation for up to 10 days, the regulation said.

During the period of their stay, station officials will try to contact the vagrants' relatives or civil affairs departments at their hometown to make further arrangements.

The new regulation helps guarantee people's right to live and the right of the needy to receive help from the public, said Professor Xu Xianming, president of the China University of Politics and Law.

"Different from the former deportation measures which were designed to restrain people's freedom, the new measures try to provide aid to the needy," Xu told China Daily.

Allowing the presence of beggars in cities does not contradict efforts to enhance the urban environment, Xu said.

"A city's image is not only displayed by its infrastructure, but also its humanitarian consciousness such as giving beggars the freedom to make a living," Xu said.

Look at an aid station

Four homeless shelters opened in Beijing on August 1 last year when the new regulation on aiding the urban homeless took effect.

The four homeless shelters are located in eastern Chaoyang District, northwestern Haidian District, western Shijingshan District and southern Fengtai District.

Lying about 25 kilometres from downtown Beijing and located in Jinzhan Town in the east, a 9,000-square-metre Chaoyang District shelter became the biggest of the city's four new homeless shelters.

Located behind rows of residential houses, the Chinese characters bo ai (universal love) can be seen above the gate of the shelter.

Wang Siying, a 74-year-old from North China's Hebei Province, receives regular health checks and meals at the shelter.

This is the third year that the mentally-disturbed woman has been loitering on the streets of Beijing, trying to find her husband before she fainted on the street and was sent to the Chaoyang shelter.

The shelter's staff can offer Wang free food and housing for 10 days or longer. But they cannot help her find her husband, who has been dead for almost three years.

Shelter staff have contacted the local government of her hometown and the local official confirmed Wang is from Hebei and will fetch her soon.

The Chaoyang shelter has worked hard to publicize itself and will send out social workers to find needy people and persuade them to seek help, said Cao Lansuo, director of the shelter.

"They (vagrants) can tell patrol police or urban managing officials what they want, and then their information will be relayed to our office downtown. Our cars are waiting all day long for these homeless and helpless people," Cao said.

Justice at risk

The tragic death of Sun Zhigang, a 27-year-old graphic designer from Central China's Hubei Province, has been etched into the country's legislative development and helped accelerate the launching of aiding measures for urban vagrants and beggars.

In March last year, he was mistaken as a vagrant and detained in the southern city of Guangzhou, as he had not brought his temporary residency card or identification card with him. Several days later he was found dead. He had been beaten to death by inmates while in a repatriation centre.

In June, one nursing attendant in the repatriation centre was sentenced to death for his leading role in Sun's death. One of the inmates was given a suspended death sentence.

Another six people, including a policeman, two doctors, two nurses and the person in charge of the repatriation centre were sentenced to prison terms of two to three years for neglecting their duties.

Subsequently, Sun's case has made a difference to the lives of hundreds of millions of Chinese who live and work outside their hometowns.

The State Council finally rescinded the Regulation on Detention and Deportation of Vagrants and Beggars in Cities which was issued in 1982.

The government was widely criticized for exceeding its authority in taking measures to restrict personal freedom without a legal basis.

The Ministry of Civil Affairs has long been considering over changing the former holding and deportation system for vagrants and beggars which has received a huge amount of complaints from the public in the past years.

The Law on Legislative Procedure stipulates that any provisions concerning deprivation of the human and democratic rights of citizens must be made in the form of laws by the National People's Congress (NPC) or the NPC Standing Committee. In other words, the State Council does not have the power to deprive such rights with administrative regulations.





Today's Top News
Top China News

'Hospitals on wheels' to offer farmers health care




At least 283 die in Paraguay market fire




PLA vows to crush Taiwan separatism




Hong Kong cheers first garrison parade




German leader: We bow in shame




US warns of terrorist threat to financial icons