'Verbal permission'questioned
By Jiang Jingjing (China Business Weekly)
Updated: 2004-08-02 14:41
Avon Products Inc, the world's leading cosmetics direct seller, said it has received "verbal permission" for a pilot direct-selling business in China, but insiders believe that the statement is only a bluff made in a bid to gain an advantageous position as China implements the country's first law on direct selling.
"It is Avon's strategy to push their proposals for the drafting of the law, which is expected to be implemented at the end of the year," said Zhang Hongyu, vice-secretary general of the China Beauty & Cosmetic Chamber of Commerce.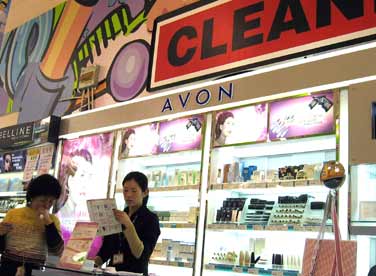 A girl looks at Avon products at a shopping mall in Shanghai. Global cosmetics direct selling giant Avon Products Inc said it has been granted approval to begin a pilot direct selling business, a prelude to China's lifting of a ban on the industry. [newsphoto]

Zhang further explained that direct selling firms, like Avon and Amway are seizing every opportunity to push for earlier implementation of the law. "They need clearer guidelines for their business."

The direct sales giants are also trying to persuade the legislators to use their selling modes as a model in drafting the law.

Zhang raised doubts over Avon's claimed approval, saying he has been maintaining close contact with the State Administration for Industry & Commerce (SAIC), which is responsible for issuing direct selling licence, and that "so far no news has come out" verifying the claim.

Sun Changqing, Avon China's vice-president in charge of corporate affairs said late last month that Avon was informed of the decision.

"Avon was given verbal permission -- to test direct selling by the Chinese Government. However, to date, we have not received any official document," Sun said.

The firm declined to provide details about the test until it receives official documents.

Sun said Avon is currently working with the Ministry of Commerce (MOFCOM) on the test and would give further details at an appropriate time.

Amway, Avon's major global rival, said it has heard nothing about the test and refused to comment on the claimed approval.

The MOFCOM said it will give an official response, but so far this has not been done.

An insider said on condition of anonymity that Avon's behaviour (announcement of the approval) was "ridiculous."

"It is SAIC rather than MOFCOM that has the right to issue any direct sales licence, or verbal approval of the same," said the insider.

"It is simply a part of Avon's propaganda campaign at this critical time (of drafting and implementing the direct sales law)," he said.

He said that all existing direct sales giants would like the legislators to make their selling mode as the standard for the sector.

For example, in China Avon sells their products directly through boutiques, while Amway uses the multi-level sales mode.

"Whoever managed to make the first move could win a better position in the sector," the insider said.

China imposed a ban on direct sales in 1998, saying it was hard to differentiate direct sales from "pyramid sales," which had led to widespread fraud, consumer losses and social disorder.

Following the financial crisis in 1998, 10 foreign-funded direct sales companies were allowed to continue their operation in China, but they had to change their sales mode into selling goods through retail outlets and sales representatives who were not employees of their company.

The draft law on direct-sales companies is scheduled to be discussed at a seminar to be held this September in Xiamen, a city in East China's Fujian Province, according to officials from MOFCOM.

The law will be introduced before December 11, to meet the deadline of China's commitments to the WTO (World Trade Organization).

China is expected to lift the ban and set down rules for direct selling in the third year of its accession to the WTO.

Avon so far has achieved great success in China with its beauty boutiques, a sales mode that the company has never used before in its 117-year history.

The firm has maintained a 30-per-cent growth rate annually in China, the fastest rate among all its locations worldwide.

Avon predicts its business in China will continue to grow by 50 per cent in the second quarter, and expects its revenues to hit US$400 million annually by 2007.

Shou-Kang Kao, president of Avon China, said Avon China will keep the beauty boutiques while developing new sales methods that conform to the new law.

Avon started selling its products through beauty boutiques in 1998 and has 5,500 boutiques in 74 cities in China.

The firm markets cosmetics to women around the world through 4.4 million independent sales representatives, with brand names such as Avon Colour, Anew, Skin-So-Soft, Avon Solutions, Advance Techniques Hair Care, Avon Naturals, Mark and Avon Wellness.

Avon also sells an extensive line of fashion jewellery and apparel.