People hold Deng in high esteem
(China Daily)
Updated: 2004-08-02 09:23
The Chinese people still hold late leader Deng Xiaoping, the architect of China's modern reform and development, in high esteem, a recent survey indicates.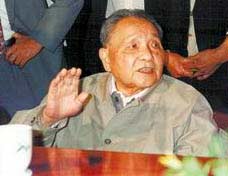 Deng Xiaoping delivers a speech during his South China tour in 1992.

To commemorate Deng's birth centenary, which takes place on August 22, Xinhuanet.com, a website of the Xinhua News Agency, launched an online survey which started on June 21.

The survey tests people's knowledge of Deng's life and his theories.

More than 10,000 people have read the survey and 1,513 of them have answered it over the past month, the website stated yesterday.

Nearly 69 percent of the netizens are familiar with Deng's life. Most learned about Deng's story through movies, TV series or documentaries, while others learned by reading Deng's biography or media reports, according to the survey.

Netizens are very impressed with some of Deng's famous remarks, such as "I am the son of Chinese people and I deeply love my country and the people," which has left the deepest impression in people's minds.

The other two well-known remarks reflect Deng's thoughts on China's development and economic construction: "Development is a hard principle" and "no matter if it is a white or a black cat, it is a good cat so long as it catches mice."

The survey indicates that netizens want to know more about the "three ups and three downs" in Deng's career and his role as the architect of reform in modern socialist construction.

When asked "which of Deng's experiences are you interested in?" 35 percent of netizens selected the fact that Deng had been overthrown three times and then reinstated to important positions in the Party and the central government.

The remainder were interested in Deng's role in propelling the country's economic progress and details of his final tour to South China's Shenzhen Special Economic Zone in 1992.

The survey indicates that netizens also want to know about Deng's experiences as a politician, and as a person. His relationships with friends and relatives are particularly important.

The 1,513 netizens said Deng's following policies have greatly influenced them - "science and technology are the prime production force," "respecting knowledge, science and skills," and "advancing the construction of a socialist market economy."

In another development, a collection of works on military affairs by Deng has been jointly published by the Central Documents and Files Publishing House and the Chinese Academy of Military Sciences.

The title of the book, published with the approval of the Communist Party of the China Central Committee and the Central Military Commission, is inscribed with the autograph of CMC Chairman Jiang Zemin.

The book, with approximately 800,000 Chinese characters, consists of 232 articles, reports, speeches, telegrams, decrees, letters and inscriptions by Deng during different periods of China's revolution and modernization. Many of these are being made public for the first time.




Today's Top News
Top China News

Book: I'll only feed you until you're 18




Lee's visit hampers free-trade talks




Japanese probing chemical weapons




Taxes to be levied on expatriates




China condemns bombings in Uzbekistan




New Baiyun Airport officially declared open