Defence minister: Army to smash any independence plot
(chinadaily.com.cn/agencies)
Updated: 2004-08-01 11:26
China's army has the ability to crush any attempt by Taiwan to move towards independence, Defence Minister Cao Gangchuan said in a speech reported by state media on Sunday.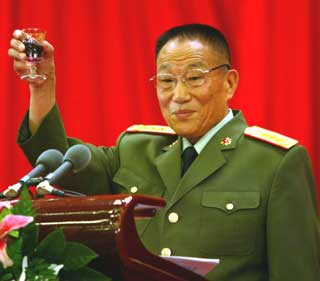 Chinese Defence Minister Cao Gangchuan proposes a toast at the grand reception to mark the 77th anniversary of the founding of the People's Liberation Army in the Great Hall of the People July 31, 2004. [newsphoto]

Speaking on Saturday ahead of China's August 1 Army Day, Cao said there could be no peace or stability if Taiwan sought independence.

"If the 'Taiwan independence' separatist forces obstinately persist in their course, the Chinese People's Liberation Army has the determination and ability to resolutely smash any 'Taiwan independence' separatist plot," Cao said.

In a telephone conversation with US President George W. Bush, Chinese President Hu Jintao also urged the United States not to sell arms to the island.

Hu told Bush on Friday that Beijing opposed U.S. sales of sophisticated weapons to Taiwan.

He told the American leader that the situation across the Taiwan Strait was very sensitive and complicated, and the two sides should "act resolutely" against Taiwan independence.

Cao said China hoped to achieve peaceful reunification with Taiwan.

"But we absolutely will not allow any person, using any means, to split Taiwan from the motherland," Cao said.

"There is nothing more important than the territorial integrity of the motherland, and the will of 1.3 billion Chinese people cannot be spurned," he said.

Beijing sees Chen Shui-bian's goal of adopting a new constitution by 2008 as a drive towards a formal declaration of independence, and has been preparing for a possible military showdown.

Both sides have held war games in recent weeks amid rising tensions.




Today's Top News
Top China News

Defence minister: Army to smash any independence plot




War against porn website in full swing




Foreign banks share RMB profits




Iraqi militants claim to kidnap two Turks




Hu: China to resolve Taiwan peacefully




WTO OKs plan to end farm export subsidies