Head of Iraq teacher's institute killed
(Agencies)
Updated: 2004-07-31 23:09
Gunmen killed the head of a state-run teacher's institute as he left a mosque after prayers, police said Saturday, an attack in apparent retribution for his refusal to stop working for Iraqi authorities.
Militants had previously warned Ismail al-Kilabi, the head of the Mahmoudiyah Teachers Institute, 20 miles south of Baghdad, to quit his job after the transfer of power from U.S. occupation forces to the interim government, police Lt. Ala'a Hussein said.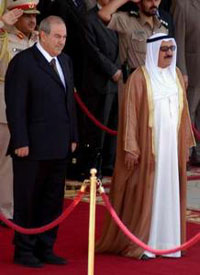 Kuwait's Prime Minister Sheikh Sabah Al-Ahmad Al-Sabah (R) and Iraqi Prime Minister-designate Iyad Alawi listen to the Iraqi national anthem upon Yawar's arrival in Kuwait July 31, 2004. Kuwait and Iraq have not had any diplomatic ties with each other since the ousted Saddam Hussein occupied the tiny oil-rich neighbour in 1990. [Reuters]

Iraqi militants have increasingly targeted police and other Iraqi officials they deem collaborators with coalition forces as part of their 15-month-old insurgency.

Early Saturday, two mortars exploded in a garden in northern Baghdad's Shalchia suburb, injuring two sleeping children, hospital official Dr. Taleb Mustafa said.

Also Saturday, the U.S. military said that 20 Iraqi fighters were killed in fierce fighting between Marines, backed by Iraqi security forces, and insurgents between 7:30 p.m. Thursday and 1 a.m. Friday in the city of Fallujah.

Hospital officials had previously said at least 13 were killed and 14 wounded. Many of those wounded, including at least one child, appeared to be civilians injured in U.S. airstrikes, hospital officials said.

The violence continued as U.S. Secretary of State Colin Powell made an unannounced visit to Baghdad on Friday. He said Washington would speed delivery of billions of dollars in reconstruction aid, a move he said should help stabilize the country and reduce attacks.

"We want to show the Iraqi people that this money is being used for their benefit and do it as quickly as we can," Powell said. Iraq's deputy prime minister, Barham Saleh, said $9 billion in U.S. reconstruction money would be disbursed by December.

U.S. lawmakers and others have said the administration has moved too slowly in converting $18 billion in reconstruction aid into projects on the ground in Iraq. To date only $458 million has been spent, officials said, blaming red tape.

Later Friday, NATO countries agreed to send a 40-member team to Iraq as soon as possible to begin training local security forces in a bid to curb the insurgency.

Meanwhile, a Turkish driver, Mehmet Dayar, who was abducted in Iraq on July 17 was freed in the northern Iraqi city of Mosul after promising he would not return to the country, CNN-Turk television reported Saturday. He had returned home to Turkey.

In another in the wave of hostage crises here, efforts intensified Saturday to secure the release of seven foreign drivers ¡ª three Indians, three Kenyans and an Egyptian ¡ª kidnapped by militants.

The militants had threatened to behead one hostage by Friday night if their demands, which included their Kuwaiti company's withdrawal from Iraq, were not met.

The deadline passed without any news on the men.

An official from the company, Kuwait and Gulf Link Transport Co., arrived in Baghdad on Saturday to meet with mediators, said Muqam al-Hamadani, spokesman for Sheik Hisham al-Duleimi, who runs an organization of tribal leaders trying to negotiate the hostages' release.

India's ambassador to Oman, Talmiz Ahmed, was expected later Saturday. Ahmed's trip follows protests in India demanding the government do more to secure the release of the Indians.

Al-Hamadani said his group planned to mediate the crisis by crafting an offer with the Kuwaiti company's representative, Mahdi Saleh, and then announcing it to media outlets.

Al-Hamadani then expected the kidnappers to respond by releasing another videotape to the media, which has been their primary form of communication.

"We want to solve this humanitarian issue and we expect positive news," al-Hamadani told The Associated Press.

Al-Duleimi said Friday he had been negotiating with Egyptian and Indian officials regarding the captives, but had not spoken to the kidnappers.

"I appeal to the kidnappers to be patient and to refrain from beheading one of the hostages and to extend the deadline until positive results can be reached," al-Duleimi said.

In Jordan, relatives of four Jordanian truck drivers held by a different group joined with fellow drivers in chanting "Death to America" during a protest march Friday they said the kidnappers had demanded as a condition for the hostages' release.

After the demonstration, the kidnappers called the relatives, saying they were satisfied and would release the men Saturday, said Mohammed Abu Jaafar, whose brother Ahmad is one of the hostages.

Also Saturday, Iraqi police said they detained 102 Afghans, including women and children, in the southern city of Basra after they entered the country from Iran to visit Shiite Muslim shrines in Karbala and Najaf.

Police Col. Dhafir Sabah said the Afghans were arrested Friday and Saturday without passports and were being held in Basra by police, who planned to return them to Iran.




Today's Top News
Top World News

Defence minister: Army to smash any independence plot




War against porn website in full swing




Foreign banks share RMB profits




Iraqi militants claim to kidnap two Turks




WTO OKs plan to end farm export subsidies




British Army uniforms to be made in China