Sudan says it accepts UN resolution on Darfur
(Agencies)
Updated: 2004-07-31 22:43
Sudan said Saturday it would comply with a U.N. resolution threatening it with sanctions if it failed to restore security in the crisis-hit Darfur region.
"Sudan is not happy with the (U.N.) Security Council resolution, but we will comply with it to the best of our ability," Osman Al Said, Sudan's ambassador to the African Union, told a news conference in Ethiopia.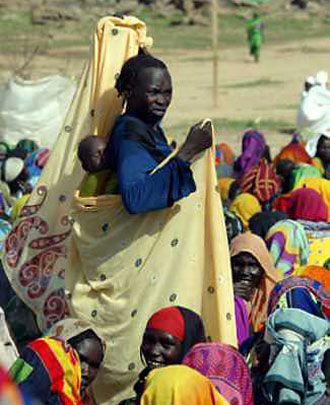 A newly arrived displaced Sudanese mother arranges her child as she waits for aid distribution at Bredjin camp in eastern Chad July 29, 2004. The U.N. Security Council threatened to clamp sanctions on Sudan in 30 days if it does not disarm and prosecute marauding militia in Darfur, under a U.S.-drafted resolution adopted on July 30. [Reuters]


"Because should we fail to do so, we know our enemies would not hesitate to take other measures against our country," he added, in remarks that backed down from Sudan's initial rejection of the vote.

"Sudan accepts the decision of the (U.N.) Security Council on Darfur, because it is a member of the United Nations and has no other options. Sudan is not going to be another Israel, which has no respect to the decision of the world body," Al Said added.

However, Al Said lashed out at the United States which drafted the resolution giving Khartoum 30 days to disarm and prosecute marauding Arab militia or face sanctions.

"Sudan completely rejects the motive of the U.S. government in sponsoring the resolution because it has nothing to do with the welfare of the people of Darfur or of Africa," he said.

He said U.S. interest in arid, impoverished Darfur had more to do with winning the black vote in November's U.S. presidential election.

Instead, he called on the 53-member AU to mediate a solution to the Darfur problem. "This is an African problem and it should be solved by Africans," Al Said said.




Today's Top News
Top World News

US nationals arrested for DVD piracy




Hu: China to resolve Taiwan peacefully




China, US sign deal to expand air services




Beijing to raise water prices again




US Chinese suspected of spying `regretful'




Ensuring clean online environment