US nationals arrested for DVD piracy
By Zou Huilin (China Daily)
Updated: 2004-07-30 22:04
Two US nationals were arrested on July 1 as leading suspects in a pirated DVD trafficking ring, the Ministry of Public Security (MPS) said on Friday.
The arrests were the result of a joint sting by Chinese and US law enforcement departments.
"This is the first-ever co-operative joint investigation between the two countries' police forces on DVD piracy," said Gao Feng, the deputy director of the Economic Crime Investigation Department (ECID) of the ministry at a press conference.
MPS officials said the case was also the first DVD piracy case they've cracked via the Internet.
On July 1, Shanghai police, led by ECID, launched operation "Spring Action".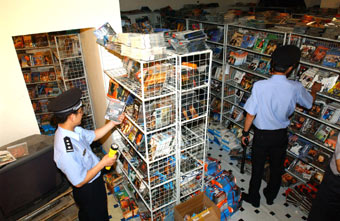 Shanghai police officers inspect pirated DVDs they found in a warehouse during the "Spring Action" on July 1, 2004. [newsphoto]

Two US nationals were arrested with the help of the Bureau of Immigration & Customs Enforcement (ICE) of the US Department of Homeland Security.

A total of 6 suspects involved in manufacturing and sales of pirated DVDs in Shanghai, including US citizens Rudolph Hobson Gutherie and Cody Abram Thrush, were arrested.

Shanghai police also demolished three warehouses where more than 210,000 copies of pirated DVDs were stocked.

Ni Ruiping, an official from the Shanghai branch of the ECID, said seven computers, three telephone sets and several other tools were found in the warehouses.

Besides, a large quantity of mail bags were found.

Police also seized 200,000 yuan (US$24,096) and more than US$67,000.

Andy Wu, an ICE official, said the successful sting was the result of close co-operation between Chinese and American law enforcement officials.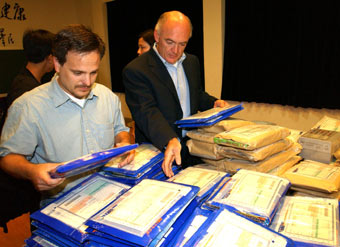 Two ICE offical inspect the seized mail bags in a warehouse used by the suspects involved in manufacturing and sales of pirated DVDs July 1, 2004 in Shanghai. [newsphoto]

Wu said the case also suggests piracy of intellectual property rights (IPR) is a global issue which requires further cross-border co-operation.

"When compared with other piracy cases, this criminal case contains criminals from different countries, thus their crimes were well covered and hard to detect," said Kong Xianming, deputy director of the Shanghai Municipal Public Security Bureau.

According to police, by using the Internet and other high technologies as their tools, the crimes are even harder to discover.

"Only through international co-operation can such multinational crimes be effectively cracked down on," said Gao Feng.

"Chinese law enforcement is willing to co-operate more with American law enforcement and law enforcement of other countries to combat piracy of IPR, which is a global crime."

Chinese police also said manufacturing and selling pirated DVDs carries penalties of at least five years in prison.